Breitbart News
Big Peace
25 May 2013
After the brutal and barbaric murder of an off-duty soldier in Woolwich on Wednesday, Britons took to the street to protest in a massive rally led by the controversial English Defence League. EDL leader Tommy Robinson told the rally in Newcastle, "We cannot allow this soldier's death to be in vain. We are the only ones who dare say it. When did the truth become hate speech?" Nearly 2,000 people showed up to the rally.
Violence nearly broke out when 350 to 400 counterprotesters showed up, and glass bottles were thrown; counterprotesters shouted "Nazi scum, off our streets." Dipu Ahad, a Labor councilor, said that EDL were acting as "opportunists." A handful of would-be protesters were arrested before the rally for posting racist messages on Twitter, according to CNN. EDL, however, encouraged its ralliers to act with care, posting a message online: "NO swearing, NO incitement to violence, No racist remarks, No threats. Please be very aware that the authorities can, do & will monitor these pages & it seems from information we are getting are visiting and arresting people. Keep it safe please."
The EDL describes itself as "an inclusive movement dedicated to peacefully protesting against Islamic extremism." Others describe the movement as xenophobic. British Prime Minister David Cameron said in 2010, "The EDL are terrible people, we would always keep these groups under review and if we needed to ban them, we would ban them or any groups which incite hatred." The British press regularly describes the group as "far-right." The EDL is pro-Israel and pro-Western in orientation.
Also at Breitbart:  Woolwich Beheading Suspect Marched Against English Defence League in 2009
Newly-released pictures show Woolwich beheading suspect Michael Adebolajo marching on the anniversary of September 11 in 2009, joining forces with other British Muslims to protest at anti-Islamist march by the English Defence League. When the EDL didn't hold an event after all, the Muslims marched on the police instead, throwing rocks and bottles at them. Ten people were arrested.
Woolwich Suspect Arrested in Kenya in 2010 in Terror Plot
A Sunday report from the UK Independent says that Michael Adebolajo, one of the men suspected of beheading British soldier Lee Rigby last week in Woolwich, had been known to anti-terror forces for at least three years before the attack. In 2010, he was arrested in Kenya for involvement in an al Qaeda-inspired plot, after landing on an island off the coast of Kenya, allegedly in an attempt to travel to Somalia to join the al-Shabaab terrorist group…
Related: Beheading in London proves importance of 2nd Amendment, right to carry
…One thing this attack should prove to Americans is the vital importance of our 2nd Amendment, the right to keep and bear arms. Terrorism and violent crime can happen anywhere, and it is a natural right of man to protect and defend themselves and others…
The Stabbing Attack You Haven't Heard About 
Do you know who Christopher Stone is?

If you do not, it is no surprise, as the media has by and large, failed to fully cover his story from May 9th…

…The stabbing didn't just happen "nearby" the Embassy as the twitter account so cagily writes. It happened AT the Embassy, right at the entrance. The man stabbed, Christopher Stone, is an American academic, who went to the Embassy to pick up paper work for his wife, and who was there waiting…
Read the whole thing.
Update: Walid Shoebat discusses the terrorist attack in London
Walid Shoebat ALWAYS offers a unique perspective on terrorism that you just don't hear from anywhere else and yesterday he was on Kuhner Report to discuss the terrorist attack that happened in London. He also discusses Obama's terrorist connections in his family and even addresses, when asked, the question of whether Obama is a Muslim or not.

The first 13 minutes or so is the actual interview and after that he takes questions from listeners.

Listen…
Update 2: 2,000 Brits take to streets to honor fallen Squaddie, media attacks marchers
An estimated throng of 2,000 strong English patriots marched peacefully through the streets of Newcastle Upon Tyne, England to honor the recently butchered British "Squaddie" (English slang for soldier), as reported by the Shropshire Star (of Telford, England) on May 25, 2013…
Update 3:  "…When she arrived at the flower-carpeted murder scene in Woolwich today, it became more than Lyn Rigby could bear…":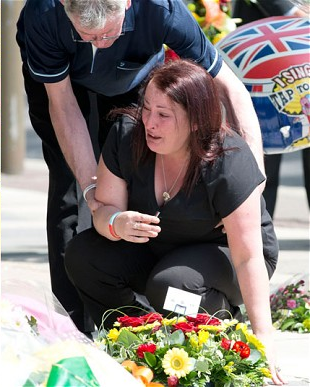 Her legs buckled under her and Drummer Lee Rigby's mother sank to her knees as her face dissolved into tears of raw grief.
She was consoled by her husband Ian and other members of Drummer Rigby's family, who wrapped their arms around her as she sat on the kerb, trying to find the strength to get up.

Drummer Rigby's sister Sara, 24, also had to be helped up after she fell to the ground, overcome with emotion. She relied heavily on her stepfather to keep her on her feet for much of the visit.
The family later added their own tributes to the thousands of bouquets which have turned the area into a public shrine extraordinary in its scale…

(Photographs: Warren Allott for the Telegraph)