Sister Toldjah
6/26/2010
**Note – 12:56 AM: Please scroll to the bottom of this post for (ongoing) important updates.**
—–
Just got done watching the speech Sarah Palin gave at California State University, Stanislaus – the one that generated so much controversy from "concerned" students to the point they were digging in trash dumpsters looking for contract info.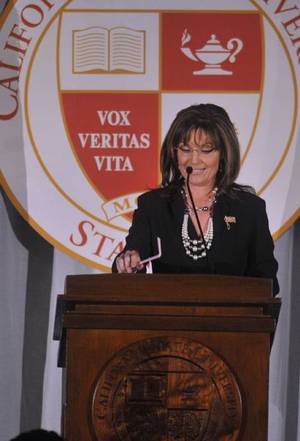 Anyway, she gave a great speech as always (commentary/live Tweets are here) but at times the Fox40 live feed was hard to hear – they were having audio issues. But at the end of the speech is where it got interesting. Here's what some of the audio/camera guys** were saying:
"The dumbness doesn't just come from soundbites."

[…]

"I can't believe she quoted Kennedy – twice."

[…]

"how am I going to write about this-there's nothing there-answer well there's your story" (source for this quote)
There was more – The Right Scoop is working on getting the video/audio posted as we speak.
And people STILL wonder why conservatives are so distrustful of the mainstream media?
Contact Fox40 (middle right side of page) to let them know what you think.
Update 1 – 12:38 AM: Right Scoop got part of it (turn it up if necessary – the audio from live feed was awful at times), but not the major money quotes. Anyone else out there who may have gotten the after-speech audio? Please let me know. Some on Twitter are even speculating that the sound quality of the speech was "purposely poor."
**Update 2 – 12:56 AM: Interesting:
WAIT! I called, got thru – it was NOT their feed! it was the school's feed & room of reporters!
The plot thickenz.
Stay tuned as determined Tweeters try and find out who it was making the after-speech remarks. Find it hard to believe that Fox40 didn't have someone there directly monitoring the feed – this was a pretty big deal tonight in CA.
Update 3 – 1:06 AM: Via Tammy Bruce:
For those who are confused, @Fox40 took the Palin audio/video from a projector but it was *their* mics that were hot at the end. Losers.
Developing …
BTW, you can read a recap of the speech here.
Update 4 – 1:24 AM: Fox40 denies it was them:
NOTE: The comments you heard in the media room were from reporters at other outlets and newspapers and were not from FOX40 journalists.
Hmmm. If true, this makes what was said even worse. Camera/audio guys are one thing, but MSM journalists saying crap like this is something else. Tammy Bruce is all over it right now. If anyone can get to the bottom of it, it's her.
The article continues at Sister Toldjah
H/T sisu
Video from The Right Scoop:
The MercedSun-Star has a video that might be better quality. The article there is worth reading, as well.