By LAURA ROZEN
Politico.com
11/16/09
When President Barack Obama met with Israel's Benjamin Netanyahu over coffee and sweets in his private presidential dining room off the Oval Office last week, a solemn Civil War-era painting featuring Abraham Lincoln deliberating with his generals hung above their evening tete-a-tete, as seen in an official photograph of the meeting the White House later released.
The late 1860s painting, "The Peacemakers," by George P.A. Healy, shows Lincoln, his chin resting thoughtfully on his fist, conferring with his Generals William Sherman and Ulysses S. Grant and Admiral David Porter aboard the River Queen, the steamer that took the president from Washington up the Potomac to the Union base at City Point, Virginia. In the two weeks that followed the March 27th 1865 meeting recounted in the painting, the South's General Lee agreed to terms of surrender, and Lincoln, after thanking God that he had lived to see the end of the four-year civil war, was assassinated….
…At an April 21 meeting over tea between Obama and Jordan's King Abdullah, just as the new administration was launching its optimistic Middle East peace push, Washington had been replaced by a wholly more pastoral landscape. And by the meeting with Netanyahu earlier this month, that in turn had been replaced by "the Peacemakers.'
Could the White House be trying to send a subliminal message to Netanyahu – or perhaps to Palestinian leader Mahmoud Abbas, whose threat to quit last week was the major subject of discussion at the Obama-Netanyahu meeting?…
Read the entire article at Politico.com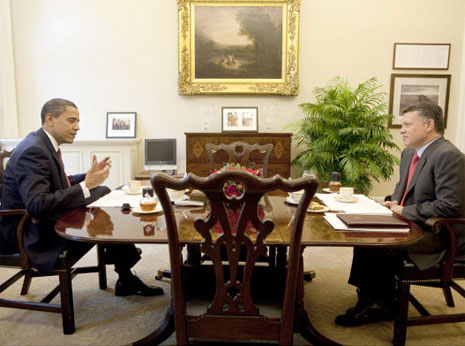 Above, Obama and Jordan's King Abdullah in the private presidential dining room on April 21, beneath a pastoral landscape.
Below, Obama and Israel Prime Minister Benjamin Netanyahu, in the same seats earlier this month, beneath "the Peacemakers."