iowahawk
5/4/2012
Click on the images to enlarge them.
The complete Julia satire is at iowahawk and definitely worth seeing! Especially if you like to laugh at stupid, "progressive" (i.e. Communist) ideas. Isn't that what we've learned from Comrade Alinsky's Rule Number 5?
If you don't know who "Julia" is, HillBuzz explains:
I'm sure most of you have heard about the absurd "life of Julia" post on Barack Obama's campaign website.  If you haven't seen it,  take a look at it HERE.

It tells the story of "Julia" a woman whose entire life is taken care of by the government, under the magnificent direction of Dear Leader Obama.  Even left-leaning sites are mocking it.

Julia's even got her own hashtag on Twitter, and conservatives are all over it here.
They've posted a funny parody video there, too.
Meanwhile, we've read there's already been some "editing" of Julia's story on the official site. Unbelievable! The White House would never scrub a website, would they? !
Soopermexican has done a version of this story, too: The Life of Julia Under Obama and Mitt:
…Isn't it kinda weird that one of the main characters in George Orwell's dystopian novel 1984 was… Julia?

Yes it is…
Well, no, not really. After all, we've learned that everything Obama plans for America originated in a Dream from his Marxist Fathers. And professors. And composite girlfriends (or not). And…
Anyway, here is just a sample (click to enlarge) from Soopermexican: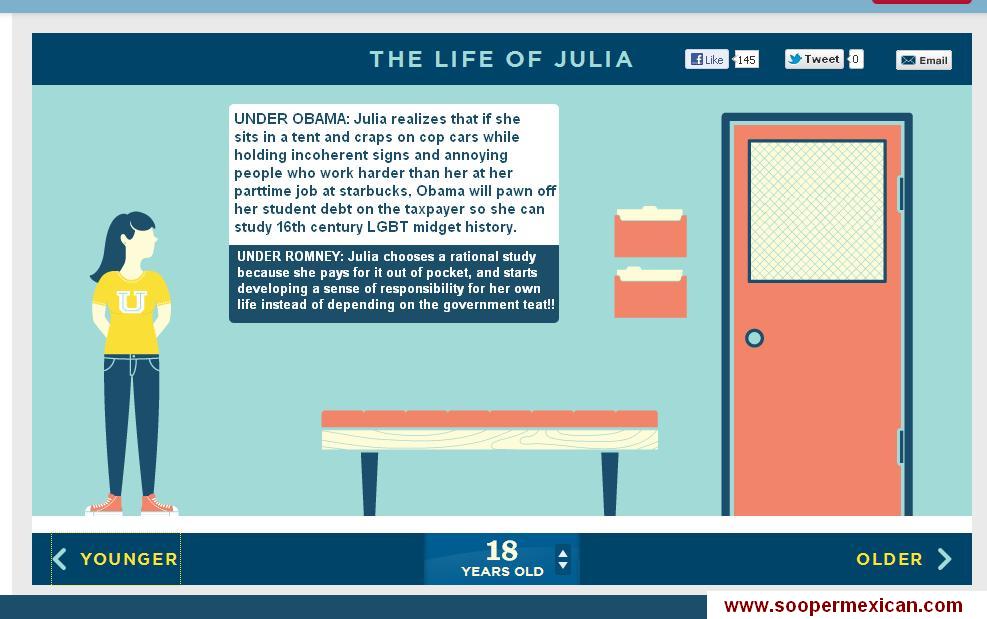 On his Facebook page this morning Dennis Miller made this observation:
Regarding "Julia", the Left believes in cradle to the grave assistance, it's just sometimes really tricky making it to the cradle.
Touché, oh Pithy One!
Meanwhile, in the real world, April Jobs Report: The Labor Participation Rate Is Back Where It Was in December 1981 [video]
That was right after President Jimmy Carter was mercifully extracted from The White House.
Update:  We've been kind of wondering where the Feminist outrage is regarding "Julia." After all, in Obama's world, she's a dependent rather than a capable person who is an equally productive participant in life.
Anyway, here's more from the web: Obama's Julia: Poster Child For What's Wrong With Government
Number of Americans Paid Not to Work Growing Faster than Number of Taxpayers
…Given all the advancements in workplace safety and ergonomic design, are Americans really 5.4 times more likely to be truly disabled than they were 37 years ago? Or, are government incentives not to work, combined with an economy slowed by overregulation, making us "disabled"?
Update 2:  "Julia": Obama marketing machine fail
Update 3:  Dreams of My Ghostwriter's Ex: Did Bill Ayers Use Dead Weather Underground Terrorist Diana Oughton as Model for Obama's 'Composite' Girlfriend?