DrJohn
Flopping Aces
4/23/2013
…It is also reported that Michelle Obama visited a Saudi national who was for a time a "person of interest" in the Boston bombing.
A Saudi Arabian newspaper is reporting that United States First Lady Michelle Obama visited in the hospital Saudi citizen Abdul Rahman Ali Issa Al-Salimi Alharbi, the young man who had been labeled a "person of interest" in the Boston Marathon bombing.

The newspaper accompanied its report with an image of Obama, although the background was generic and it couldn't be confirmed immediately that she was at the hospital where Alharbi was being treated at the time. He reportedly suffered injuries in the Boston bombing.

The newspaper's Arabic-language report is being highlighted by Walid Shoebat, a former Muslim Brotherhood member who now is a peace activist.

"Okaz, the same prominent Saudi newspaper that published photos of Abdul Rahman Ali Issa Al-Salimi Alharbi in the hospital after the Boston Marathon bombings, is now reporting that the Saudi national was also visited by the first lady of the United States, Michelle Obama, during his hospital stay," Shoebat reported…
…It needs to be verified but if true why is Michelle Obama visiting a person designated for deportation on national security grounds?
What most agree upon is that the Obama's did not likely visit Jeff Bauman.
Someone needs to clarify this situation if for no other reason than to dispel the rumors.
Read the entire article at Flopping Aces.
CAJ note: We've tried to verify that these photos from The Red, White and Blue are not altered or photo-shopped. Since we were not able to do that, readers should not take them as verifiable proof that Mrs. Obama visited al-Harbi. On the other hand, if we discover they are authentic…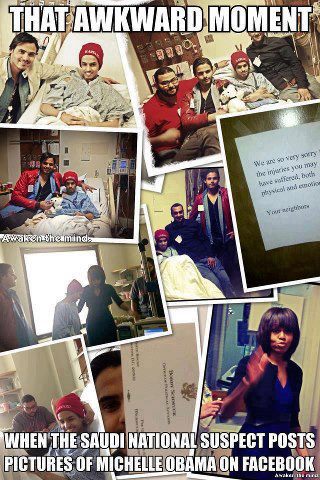 Related: Boston Terrorism Casts Shadow Over Obama's Bills
Politics: If any good can come from Boston's terror attack besides heroism, it's greater skepticism over Democrats' proposals to loosen immigration and restrict guns.

They "came here to kill people." These words by Boston's police chief alone should derail President Obama's bill to make it easier for immigrants from hostile countries to come and stay here. Likewise, the terrorists' shootout in the suburbs ought to table talk of more gun control…
Update: More about Mrs. Obama's alleged visit to Abdul Rahman Ali Al-Harbi at The Gateway Pundit. The photos are larger, and clearer on Jim Hoft's website. And Jim has published copies of White House visitor logs showing several visits by Abdul Rahman…
Also at the site, Michelle Obama Visited Saudi "Person of Interest" in Hospital… Skipped US Man Who Lost Both Legs
When we posted this photo collage last night we thought the business card from the Office of Political Affairs at the center of the photo collage might have been a joke. But after some research today we discovered at Northwestern.edu this article, Wildcats in the White House , which lists alum Bobby Schmuck, class of '07, who works in Office of Political Affairs.
Someone definitely has some 'splaining to do.