This is an update to Malkin's 4/12 blog entry Purple People upheaval: What's behind SEIU thug-in-chief Andy Stern's resignation?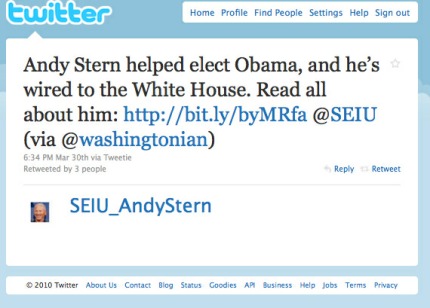 Hardly sounds like someone "tired of the daily grind."
Michelle Malkin, update 4/13/2010
Stern to address rumors on Friday…
Is Stern bowing to the ascendancy of AFL-CIO's Richard Trumka? Trumka has ratcheted up the class warfare rhetoric, scored far Left accolades for his corporate-bashing speech at Harvard, and is planning to lead a march on Wall Street on April 29. An interesting passage buried in the Washingtonian piece Stern bragged about:
Stern has played a prominent role in the mood of factionalism, engineering SEIU's departure from the AFL-CIO in 2005 to found Change to Win with a clutch of other growth-minded labor organizations such as the United Food and Commercial Workers.
Change to Win's agenda was essentially to elevate the SEIU model of organizing—recruiting members and pressuring employers via corporate-accountability campaigns that targeted the public image of management—to serve as the industry standard for labor organizing. A no-less-prominent goal of Change to Win was Stern's vision of a reorganized national leadership for labor—a federation that would streamline smaller, traditional craft-affiliated union locals into bigger operations able to organize across an economic sector. The textbook model of the corporate campaign was SEIU's Justice for Janitors initiative in the 1990s, which proved influential in shoring up the International union's power base.
But on balance, the Change to Win experiment has proved disappointing—and the federation may well be on the verge of being folded into a new accord to bring Stern and his allies back into strategic alliance with Richard Trumka, the former United Mine Workers head who last September was elected to succeed retiring AFL-CIO head John Sweeney. Negotiations with the former mother union are delicate, Stern says, but are moving gingerly forward—thanks in large part to the efforts of former Michigan representative David Bonior, an ardent labor advocate who once served as House Democratic whip, to bring both federations to the bargaining table this summer.
"You now have the first chance for every major labor union in the country to be in the same organization," Stern says. The challenge, he stresses, will be to redress the schism that triggered the Change to Win camp's defection in the first place—the mandate to keep growing versus focusing on politics and politicians.
"It's a political-will question," Stern says. "I'd say John Sweeney was still concerned about people having left the AFL, and his idea was everyone should rejoin it. I think the answer to this is really building something new that takes the best ideas from everybody, building something that works for the 21st century."
He won't project a timeline for an AFL agreement but says, "We're extraordinarily close to solving this issue in a couple-of-stages process.
Gulp: Are we about to see a re-merger of SEIU and AFL-CIO into a new 21st-century Big Labor Frankenstein?
Question: Are we looking at the death throes of forced unionism — or its resurrection?