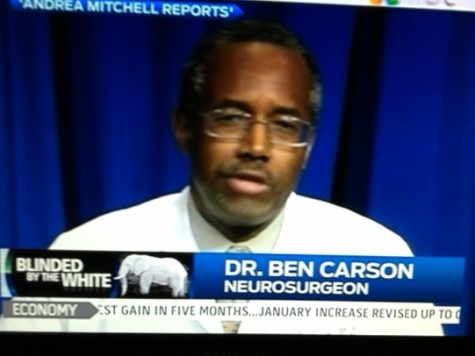 John Nolte
Breitbart.com
Big Journalism
29 Mar 2013
…NBC News obviously wants to destroy the threat of any independent-thinking black man as quickly as possible. So it should come as no surprise that, by the time Washington Post columnist Jonathan Capehart filled in for MSNBC's Martin Bashir, Carson's apology was treated as far from sufficient. In short, Capehart and his guests, Toure' and Krystal Ball, treated the apology as a lie.
This is all par for the course at NBC News.
Sadly, so is the chryron pictured above — "Blinded by the White" —  which was used as the clip of Dr. Carson played during the segment.
NBC News is notorious for using this kind of race-baiting to further its left-wing agenda, including fraud:
During last year's GOP primary, Ed Schultz edited video of Texas Governor Rick Perry to make him look racist.
In April of last year, the "Today Show" was caught editing audio of a 9-1-1 call to make George Zimmerman look racist.
In August of 2009, Contessa Brewer sliced and diced a photograph so it wouldn't look like a black man attended a Tea Party carrying a firearm.
So it was only a matter of time before they went after Carson in this way for his apostasy.
Read the entire article at Big Journalism.
Related: Med students want Dr. Ben Carson replaced as commencement speaker
Students from the John Hopkins School of Medicine have asked that Dr. Ben Carson be removed from the speaker line-up at this year's graduation ceremony after his controversial remarks on gay marriage earlier this week.

Media Matters printed the letter students sent to administrators of the John Hopkins School of Medicine asking that Carson be replaced. Students cited Carson's "deeply offensive" comments on same-sex marriage (see the actual quote in the body of the letter), his position on evolution and his remarks on Obamacare at the National Prayer Breakfast saying, "we feel that these expressed values are incongruous with the values of Johns Hopkins and deeply offensive to a large proportion our student body."…
Also, MSNBC's Touré: Dr. Carson is the GOP's token black friend
Carson Responses to Touré: '3rd Grader' With Nothing 'Useful to Say' .  Fox News host Megyn Kelly apologized to Dr. Carson as she read off some of the names he has been called in recent weeks, like "token" and "oreo"…
Update: Dr. Ben Carson Bows to Pressure, Apologizes for Gay Marriage Remark