"One Nation" Rally Exposes Coalition of Far-Left Organizations
Meredith Jessup
The Blaze
9/28/2010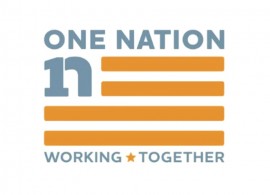 According to the One Nation Working Together site, "more than 400 organizations, representing tens of thousands of individuals who have endorsed the One Nation Working Together campaign" have signed on as partners for the Oct. 2 rally in Washington, D.C.
This movement includes human and civil rights organizations, unions and trade associations, nonprofit organizations, youth and student groups, religious and other faith groups, educational, peace, environmental, and ethnic associations, and any other groups and individuals who are committed to pulling our country back together now.
President Barack Obama's own Organizing for America has praised the effort, calling it the "biggest progressive demonstration in decades." The list of organizations offering their official endorsements for Saturday's "One Nation" rally reads like a who's who of the far-left in America, including some usual suspects…
Read the list of participating groups and watch video as Glenn Beck discusses the sponsors at The Blaze.
TheRightScoop has the video of Beck's extraordinary show this evening during which he enumerated the 10-2-10 groups and explained who they are.
Here is segment 1:
Go to TheRightScoop to view the rest of the show. Please inform yourselves about these groups. Quickly. This is deadly serious.
Communism. Is. Never. Cool. Ever.
Update: Labor and liberal groups to hold Oct. 2 rally on Mall to counter Beck, Tea Party from The Daily Caller.
Update 2: On his 9/30/10 program Glenn Beck announced this rally is being paid for by the Tides Foundation.
Update 3: Was Hurricane Katrina just God's scolding rebuke for our policies?
It sure was! At least, if you're "One Nation" rally field director Curtis Gatewood, it was. Hurricane Katrina was "God's scolding rebuke" for "radical Bush appointments and more disastrous/illegal policies."" Obviously!
Oh yeah, and also the "Jews" are trying to get Obama killed…
Read the rest at The Blaze. CAJ note: These people believe in God?…