Jim Hoft
GatewayPundit
2/20/2010
The brazen dishonesty of this president is a bit concerning to say the least.
A newly discovered video shows Obama lying to the American people about his relationship with ACORN:
Representative Darrell Issa (R-CA) from the Committee on Oversight and Government Reform released this video at CPAC of Barack Obama discussing his close partnership with ACORN. Obama talked about his long relationship with ACORN privately in this video before the 2008 election:
"When I ran Project Vote, the voter registration drive in Illinois, ACORN was smack dab in the middle of it. Once I was elected there wasn't a campaign that ACORN worked on down in Springfield that I wasn't right there with you. Since I have been in the United States Senate I've been always a partner with ACORN as well. I've been fighting with ACORN, along side ACORN, on issues you care about my entire career."…
…The photo below was scrubbed from the ACORN website before the election: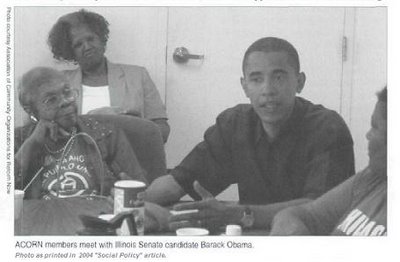 Read the entire article at GatewayPundit.