David Freddoso
Washington Examiner
12/21/2009
Robert F. Kennedy Jr., who flies around on private planes so as to tell larger numbers of people how they must live their lives in order to save the planet, wrote a column last year on the lack of winter weather in Washington, D.C.
In Virginia, the weather also has changed dramatically. Recently arrived residents in the northern suburbs, accustomed to today's anemic winters, might find it astonishing to learn that there were once ski runs on Ballantrae Hill in McLean, with a rope tow and local ski club. Snow is so scarce today that most Virginia children probably don't own a sled. But neighbors came to our home at Hickory Hill nearly every winter weekend to ride saucers and Flexible Flyers.
In those days, I recall my uncle, President Kennedy, standing erect as he rode a toboggan in his top coat, never faltering until he slid into the boxwood at the bottom of the hill. Once, my father, Atty. Gen. Robert Kennedy, brought a delegation of visiting Eskimos home from the Justice Department for lunch at our house. They spent the afternoon building a great igloo in the deep snow in our backyard. My brothers and sisters played in the structure for several weeks before it began to melt. On weekend afternoons, we commonly joined hundreds of Georgetown residents for ice skating on Washington's C&O Canal, which these days rarely freezes enough to safely skate.
Meanwhile, Exxon Mobil and its carbon cronies continue to pour money into think tanks whose purpose is to deceive the American public into believing that global warming is a fantasy.
Having shoveled my walk five times in the midst of this past weekend's extreme cold and blizzard, I think perhaps RFK, Jr. should leave weather analysis to the meteorologists instead of trying to attribute every global phenomenon to anthropogenic climate change.
In today's Washington Examiner: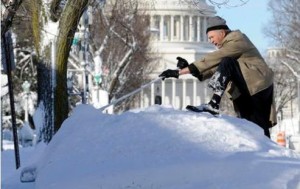 D.C. region braces for up to 20 more inches of snow
By: Michael Neibauer
February 9, 2010
The D.C. area is bracing for another major winter storm Tuesday that could dump more than a foot of fresh powder on a region struggling to recover from the crippling blast of snow that barreled through three days ago.
The National Weather Service has the entire D.C. metro area, from Prince William County north, under a winter storm warning for 10 to 20 inches of snow. Forecasters have had their eyes on this storm for days, but the projected snow totals were bumped up late Monday.
The snow is expected to start mid to late afternoon Tuesday and continue into Wednesday morning, with the heaviest falling overnight. Temperatures are expected to drop from near freezing at the onset into the 20s, and light southeasterly winds will turn to the northwest and gust up to 25 mph. The combination of snow and strong winds, the weather service warned, will make travel very hazardous.
As if it wasn't already after four storms in less than two weeks…
…Snowfall amounts will be less than the historic storm this past weekend that dropped 20-plus inches regionwide…
Read this complete article at the Washington Examiner.