"Don't shoot!" I'm Che!" I'm worth more to you alive than dead!"
Che Guevara, 8 October 1967
9 October 2010
Today at Big Government Publius, with this appropriate graphic, reminds us:
"Today, in 1967, leftist murderer Che Guevera was executed in Bolivia. The world became just a little bit freer and safer that day."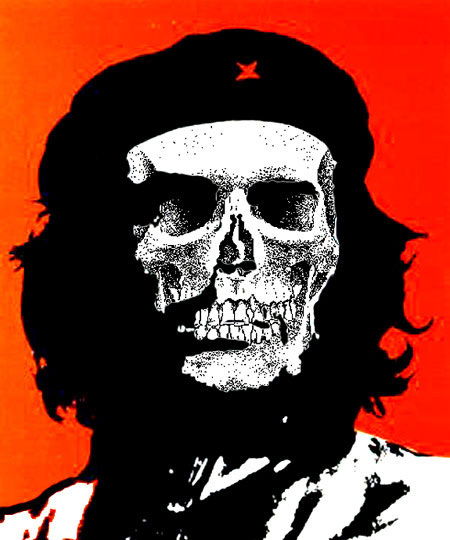 The writers at Babalu blog understand the evil of Che–and the Castro brothers–all too well. Some days the blog is terrifying to read. Today we found an article by one of  their team, Humberto Fontova, at Big Peace:
Forty three years ago this week, Ernesto "Che" Guevara got a major dose of his own medicine. Without trial he was declared a murderer, stood against a wall and shot. Historically speaking, justice has rarely been better served. If the saying "What goes around comes around" ever fit, it's here.

"When you saw the beaming look on Che's face as the victims were tied to the stake and blasted apart by the firing squad," said a former Cuban political prisoner Roberto Martin-Perez, to your humble servant here, "you saw there was something seriously, seriously wrong with Che Guevara." As commander of the La Cabana execution yard, Che often shattered the skull of the condemned man (or boy) by firing the coup de grace himself. When other duties tore him away from his beloved execution yard, he consoled himself by viewing the slaughter. Che's second-story office in Havana's La Cabana prison had a section of wall torn out so he could watch his darling firing-squads at work.
During his time at Fox News Channel Glenn Beck has informed his audience of Che's racism, his hatred for blacks and others. Beck has been diligent in his efforts to eradicate the Che chic promoted by those on the Left (like Robert Redford and Carlos Santana) by telling viewers the truth: Che was a racist, a hater, a cold-blooded, sociopathic killer of nearly Stalin-like proportion. Fontova supports Beck's assertions:
The one genuine accomplishment in Che Guevara's life was the mass-murder of defenseless men and boys. Under his own gun dozens died. Under his orders thousands crumpled…

…Che's genocidal fantasies included a continental reign of Stalinism. And to achieve this ideal he craved, "millions of atomic victims" — most of them Americans. "The U.S. is the great enemy of mankind!" raved Ernesto Che Guevara in 1961. "Against those hyenas there is no option but extermination. We will bring the war to the imperialist enemies' very home, to his places of work and recreation. The imperialist enemy must feel like a hunted animal wherever he moves. Thus we'll destroy him! We must keep our hatred against them [the U.S.] alive and fan it to paroxysms!"

This was Che's prescription for America almost half a century before Osama bin Laden, and Al-Zarqawi and Faisal Shahzad appeared on our radar screens. Compared to Che Guevara, Ahmadinejad sounds like the Dalai Lama.

So for many, the question remains: how did such an incurable doofus, sadist and epic idiot attain such iconic status?

The answer is that this psychotic and thoroughly unimposing vagrant named Ernesto Guevara de la Serna y Lynch had the magnificent fortune of linking up with modern history's top press agent, Fidel Castro, who — from the New York Times' Herbert Matthews in 1957, through CBS' Ed Murrow in 1959 to CBS' Dan Rather, to ABC's Barbara Walters, to most recently, the Atlantic's Jeffrey Goldberg — always had American reporters anxiously scurrying to his every beck and call and eating out of his hand like trained pigeons.

Had Ernesto Guevara not linked up with Raul and Fidel Castro in Mexico city that fateful summer of 1955 — had he not linked up with a Cuban exile named Nico Lopez in Guatemala the year before who later introduced him to Raul and Fidel Castro in Mexico City — everything points to Ernesto continuing his life of a traveling hobo, panhandling, mooching off women, staying in flophouses and scribbling unreadable poetry…
In a post titled Che: The other side of an icon, Babalu blogger Alberto de la Cruz promotes a new film about Che:
World premiere of the documentary CHE: THE OTHER SIDE OF AN ICON, produced & directed by Agustin Blazquez at the Miami-Dade College's Tower Theater, on October 8 & 9 (6:45 pm) & 10 (4:30 pm), 2010…

…This film profiles the life of the man killed in Bolivia, as well as "Che", the icon, who lives on today. It presents the real man behind the myth, his legacy and why he has become so popular among the youth, revolutionaries and terrorists of the world. It explores the dangers of believing in Che's carefully constructed fake public image–herein lies the real Che. This documentary is based on sources who worked directly with him, knew his family in Argentina and Havana –who were intimately acquainted with Che's personal and political trajectory as well as his academic scholars…

…Clips from the movie are available HERE.
Earlier this week, the blog promoted a radio interview with Carlos Eire regarding Che:
Our friend radio host Silvio Canto interviewed our friend National Book Award winner Carlos Eire and your humble servant here this Sunday, to commemorate the "No Che Day" at Maryland's Towson University. Student/activist Courtney Cox who is spreading enlightenment among her co-students, was also on hand with penetrating questions.

Entire radio intransigence here.

Unreal.
There's nothing cool or chic about Che Guevara and the life he led. Perhaps this is a more fitting portrait of him for those college T-shirts: