Radical's appearance at university canceled
WorldNetDaily
3/30/2010
A scheduled appearance at the University of Wyoming by former Weather Underground terrorist William Ayers, a close associate for years to President Obama, has been canceled over concerns the result could be damaging to the school.
"The University of Wyoming is one of the few institutions remaining in today's environment that garners the confidence of the public. The visit by Professor Ayers would have adversely impacted that reputation," said Tom Buchanan, president of the school, in a statement today.
Ayers had been on the calendar to appear at the Laramie, Wyo., school on Monday. A public lecture was to have been held in the Education Auditorium in an event to be sponsored by the UW Social Justice Research Center.
He was to focus on his article, "Trudge Toward Freedom: Educational Research in the Public Interest."
However, the school was flooded with objections after the event was announced, leading to the announcement today that the event was being dropped.
"The director of the Social Justice Research Center … canceled the scheduled appearance of Professor William Ayers," the school confirmed. "The director announced his decision to the UW administration late Monday evening and noted there are no plans to host Professor Ayers in the future."
The school announcement continued, "In his communication to the administration, the director apologized to the university community for any harm that may have come to it and cited personal and professional reasons, including safety concerns, for the cancellation."
Buchanan said he thanked the organization, which is headed by Francisco Rios and is privately funded, for the consideration…
…Ayers and Dohrn were two of the main founders of the Weather Underground, which bombed the New York City Police headquarters in 1970, the Capitol in 1971 and the Pentagon in 1972. The group was responsible for some 30 bombings aimed at destroying the defense and security infrastructures of the U.S.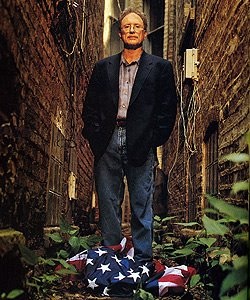 Characterizing the Weather Underground as "an American Red Army," Ayers summed up the organization's ideology: "Kill all the rich people. Break up their cars and apartments. Bring the revolution home, Kill your parents."
"Everything was absolutely ideal on the day I bombed the Pentagon," Ayers recalled in his 2001 memoir, "Fugitive Days." "The sky was blue. The birds were singing. And the bastards were finally going to get what was coming to them."…
…He said of the U.S.: "What a country. It makes me want to puke."
The complete article is at WorldNetDaily.