Michael Blaustein
The New York Post
7/5/2013
Secretary of State John Kerry spent time lounging around on his yacht Wednesday while the Egyptian military was deposing their country's democratically elected president Mohammed Morsi, according to various reports.
When Kerry was first spotted on his yatch, called "Isabel," near his vacation home in Nantucket, State Department spokesperson Jen Psaki called the report "completely inaccurate" saying that the Secretary of State had been "working all day and on the phone dealing with the crisis in Egypt," according to CBS News.
Psaki even went so far as to deny that Kerry was even on the boat.
New: @CBSNews obtained photo of Kerry on boat Weds. Asked State abt it Thurs night. They stood by their denial… pic.twitter.com/hkSWWBVUxQ

— Mosheh Oinounou (@Mosheh) July 5, 2013

…Seemingly oblivious to Kerry's recreational activities, the White House released a photo of President Obama meeting with his top security team to talk about Egypt on Wednesday. Kerry is not in the photograph.
The complete article, with additional photos, is at The New York Post.
Related:  Meanwhile, Egypt's Al-Tahrir newspaper has a front-page message (in English) for President Obama today…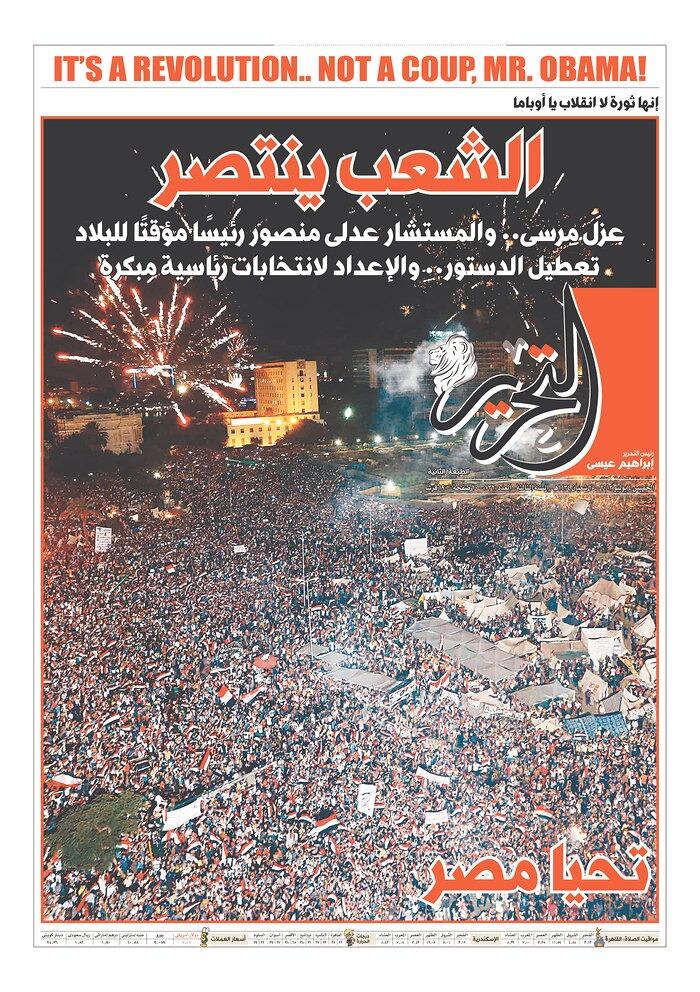 A larger view of the image is at the link above.
Update: But don't worry. Lurch isn't the only tool in the shed: State Department Blows $630K Buying Facebook "Likes"
…Hillary Clinton's scandal-plagued State Department wasted $630,000 of our hard-earned tax money buying ersatz "likes" on Facebook to make itself look popular.  And they did it wrong…
Update 2: Flashback: When is a Non-Coup a Coup? Ask Obama–and Honduras
…In June 2009, then-President Manuel Zelaya was removed from office by the Honduran military in accord with the Honduran constitution after he attempted to rig a constitutional referendum. Democrats, including then-Senator (now Secretary of State) John Kerry and Rep. Jan Schakowsky of Illinois, charged that the radical,antisemitic Zelaya had been removed in a coup, and supported his efforts to return to power…
Read the whole thing.