Jim Hoft
GatewayPundit
9/20/2010
…the Community Organizer In Chief and the radical left is focusing its energy on stalking and harassing top conservatives and tea party patriots.
On Saturday, September 18th, Glenn Beck and Andrew Breitbart headlined an event entitled "Right Nation 2010," held just outside of Chicago, Illinois. When Andrew Breitbart, a speaker at the event, arrived at the Sears Centre west of Chicago, he was met by an angry mob of radical protesters who were "praying" for an "end to hate" while also hurling insults and homophobic slurs toward the targets of their enmity. One of the prayer leaders at the event and the lead organizer, C.J. Hawking, is also a noted socialist from the Chicago area…
…This protest was promoted on Barack Obama's Organizing for America website: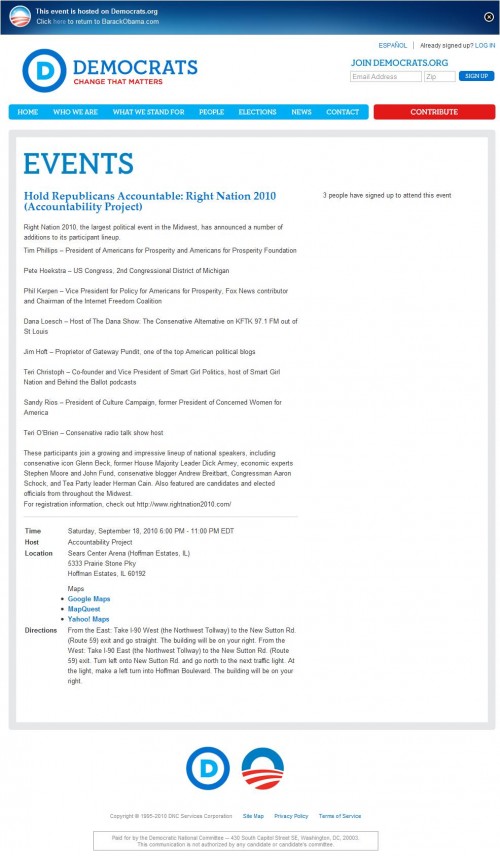 And notice that the ad is "Paid for by the Democratic National Committee." [A larger version of the image is available at GatewayPundit.]
The DNC says the host for the project is the Accountability Project.
Guess what? They're sponsored and paid for by the DNC, too. It's posted at the bottom of their page…
UPDATE: Here are two more Right Nation 2010 Videos: Andrew Breibart Confronts Lefty Protesters and Anita MonCrief Speaks.
Please go to GatewayPundit to read this entire, very important post and to see more video posted there. Also, we must note that we find it extremely amusing that the Left cannot fathom that the Tea Parties have no leaders, no central headquarters, and no major source[s] of funding. It's perversely fun to watch as they continue to designate various public figures as "Tea Party Leader."