11 May 2011
You know him as The Old Jarhead of TartanMarineBlogspot.
Blogger Robert Hall has served our country as a five-term state senator in Massachusetts, and in the Marines in Vietnam. He is a freelance writer and contacted us this week to tell us about his latest work, his fourth book, "The Coming Collapse of the American Republic [and what you can do to prevent it]"
The Coming Collapse of the American Republic draws together extensively-researched details about four threats which are combining to destroy the future for our grandchildren:

1. The incomprehensible debt and unfunded financial liabilities of all levels of government;

2. The threat of uncontrolled, illegal immigration to our economy and culture;

3. The asymmetric war imposed on us by Islamic Jihadists; and,

4. The rise of China as a competitive military and economic power determined to dominate Asia.

Taken together, these desperate trends put the survival of America as a united, free and prosperous country in great jeopardy. This short volume lays out the reinforcing nature of these converging disasters, details the existential threat they pose to American liberty, society and culture, and tells us not only how we got in this trap, but what the horror of a collapse will look like. And it offers a long, difficult and rocky path to preserve the country we have known and loved for future generations.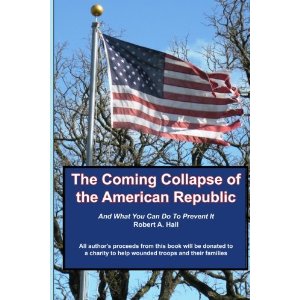 Bob also wrote, "100% of the author royalties from this book go to the Injured Marine Semper Fi Fund to help wounded troops and their families…"
The book is available now at Amazon. We hope you'll purchase a copy to benefit this very good cause and to honor this man who has given so much to his countrymen.
Update: The Coming Collapse of the American Republic is now available as an e-book on SmashWords.com