Benghazi Victim's Mom Addresses Americans Who Tried to Save Her Son
Fox News Insider
9/11/2014
It was an emotional moment on Fox and Friends this morning as the mother of one of the Benghazi attack victims got to talk for the first time to three American security operatives who tried to save her son in Benghazi.
The three men had just sat down with Steve Doocy to go over the events of Sept. 11, 2012 after revealing their inside accounts in an explosive Fox News special, 13 Hours at Benghazi, and in a book of the same title.
They recall that a CIA officer held them back for a half hour at a location near the U.S. facility where Amb. Chris Stevens and Sean Smith died…
…"I want to do things for you. I don't want to vent to you. You guys are wonderful. You're the son that I don't have anymore. … I want to give you all a big kiss and a hug," she said.
Kris Paronto responded that they all want to sit down with her in a private setting and answer all of her questions. And he offered a recollection of the team's last moments with Sean Smith…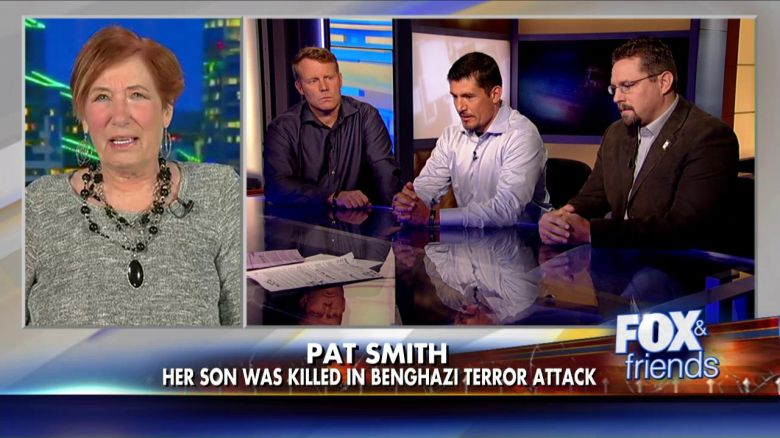 The entire article, with video, is at FoxNews.com
Related:  Hillary Can Be Grilled 'For Hours': Why Gowdy's Benghazi Probe Will Be Much Different Than the Others  (video)