Desiree Rogers Won't Testify
The White House social secretary won't be questioned over her Crashergate role
By STEVE BRYANT
NBC/Chicago
Wednesday, December 2, 2009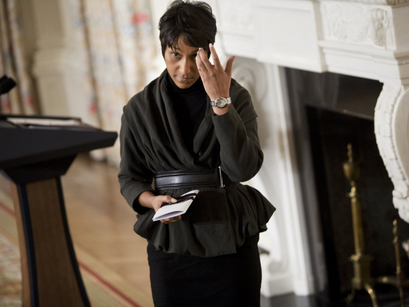 Citing separation of powers concerns, White House Press Secretary Robert Gibbs says Desiree Rogers, the White House social secretary, will not give testimony on the Crashergate scandal before a House committee tomorrow.
"Based on separation of powers," Gibbs said, "staff here do not go to testify in front of Congress."
Gibbs added that the White House has done an assessment of the problems that occured during Obama's first state dinner and that changes had been made "as of last night."
"The first family was quite pleased with her performance," Gibbs said.
Some observers, however, have fingered Rogers as the one most responsible for letting Michaele and Tareq Salahi slip by security at the front gate of the White House…
…The Secret Service has since apologized for the security lapse, possibly removing some of the burden from Rogers' shoulders. But at least one Republican lawmaker wants the social office to endure its share of scrutiny.
Rep. Peter King (R-NY), the ranking member on the House Homeland Security Committee has called for a congressional investigation into what happened — and he wants the social office, and, by association Rogers, included.
Read the entire article here.