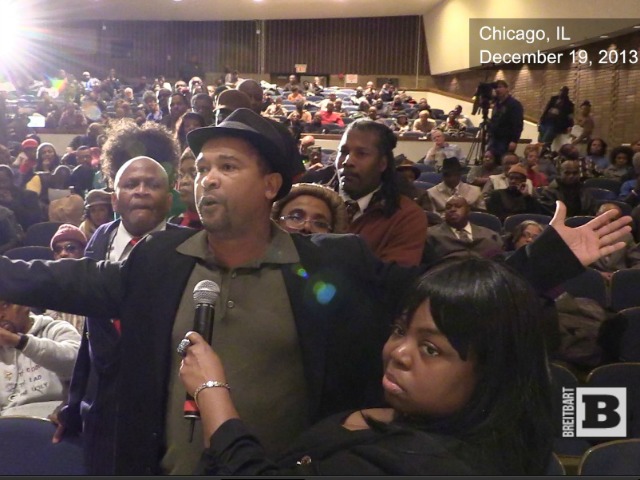 Rebel Pundit
Breitbart.com
Big Government
21 Dec 2013
On Thursday, a town hall meeting hosted by Al Sharpton and the National Action Network to address gun violence exploded into a revolt against "Chicago Machine" politics, Mayor Rahm Emanuel, and the aldermen in City Hall, with panel and audience members calling to vote out their elected officials.
One 82-year-old preacher even called for "Tea Party" style meetings in some of Chicago's south side communities such as Altgeld Gardens and Trumbull Park…
…While the stated goal for Sharpton was to bring the many different groups together to discuss solutions to the city's violence epidemic, he may not have gotten the types of responses he was looking for. Calls for more gun control laws and getting guns off the streets were nonexistent and not mentioned by residents throughout the session.
Instead, attendees offered solutions addressing the problems facing their community as a whole rather than just taking on "gun violence" itself. Audience members addressed the need for jobs and solving the foreclosure crisis plaguing Chicago's south and west sides. Perhaps the loudest message—and one that Reverend Al or the Chicago media have yet to report on—echoed by several different people in attendance as well as panel members was that it is time for the black community to start voting differently.
"The manner in which we have been voting needs to change," Wendy Pearson, an activist against Chicago school closings, told the room. "I'm here to say to you that we have been trained to vote in a specific manner… we need to start looking at the manner in which our elected officials have been voting… if they have not voted in a manner that is beneficial to you, yours, and your community, then you need to start voting them out."…
The entire article, with video, is at Big Government.
Update:  Charlie Rangel:  Tea Party attacks old, sick and poor.
Rep. Charlie Rangel (D-NY) on MSNBC earlier this week…