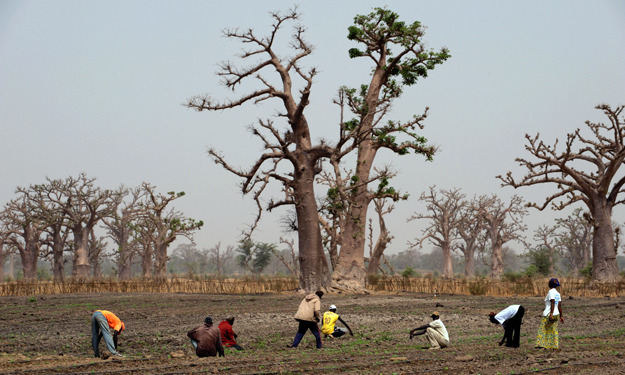 Stop obsessing about arugula. Your "sustainable" mantra — organic, local, and slow — is no recipe for saving the world's hungry millions.
Robert Paarlberg
Foreign Policy
May/June 2010
(5/2/2010)
Not only is organic farming less friendly to the environment than assumed, but modern conventional farming is becoming significantly more sustainable. High-tech farming in rich countries today is far safer for the environment, per bushel of production, than it was in the 1960s, when Rachel Carson criticized the indiscriminate farm use of DDT in her environmental classic, Silent Spring. Thanks in part to Carson's devastating critique, that era's most damaging insecticides were banned and replaced by chemicals that could be applied in lower volume and were less persistent in the environment. Chemical use in American agriculture peaked soon thereafter, in 1973. This was a major victory for environmental advocacy.
And it was just the beginning of what has continued as a significant greening of modern farming in the United States. Soil erosion on farms dropped sharply in the 1970s with the introduction of "no-till" seed planting, an innovation that also reduced dependence on diesel fuel because fields no longer had to be plowed every spring. Farmers then began conserving water by moving to drip irrigation and by leveling their fields with lasers to minimize wasteful runoff. In the 1990s, GPS equipment was added to tractors, autosteering the machines in straighter paths and telling farmers exactly where they were in the field to within one square meter, allowing precise adjustments in chemical use. Infrared sensors were brought in to detect the greenness of the crop, telling a farmer exactly how much more (or less) nitrogen might be needed as the growing season went forward. To reduce wasteful nitrogen use, equipment was developed that can insert fertilizers into the ground at exactly the depth needed and in perfect rows, only where it will be taken up by the plant roots.
The article continues at ForeignPolicy.com