Donating to Rebuild Christchurch
Trevor Loudon
New Zeal
9/6/2010
So many of you have been emailing, Tweeting and sending messages on Facebook asking if there's any way you can help in the aftermath of the devastating earthquake which took place here in Christchurch at 4:30am on September 4, 2010.
The Salvation Army, The Red Cross, and the City Mission are doing so much to help, with setting up and running the three welfare centres around Christchurch. People evacuated from their homes now have a wonderful support network, warm clothes, food, clean water, power and shelter.
Those of you wishing to contribute to the Red Cross Earthquake Fund, please click here and choose "Canterbury Earthquake Appeal".
Thank you!
Also at Trevor's blog:
Our family escaped completely unscathed, but much of Christchurch and surrounding areas was not so lucky.
Up to 20% of the homes in the city may be rendered uninhabitable. Damage is at least $2 billion in a city of 340,000 people.
The University is closed, as will be many schools.
Aftershocks are continuing, with one of 6.0 on the Richter Scale expected anytime.
The original quake was 7.1
We're also expecting gale force winds later today. Sheeeeeesh.
Most of Christchurch looks normal, but some suburbs are flooded and the roads almost impassable. Hundreds of homes have been condemned and many central city businesses are closed.
Many personal landmarks were affected by the quake. A swingbridge I used to cross as a kid in Kaiapoi was wrecked, a place I used to work at in Merivale was demolished.
I used to visit friends in the flat to the right above.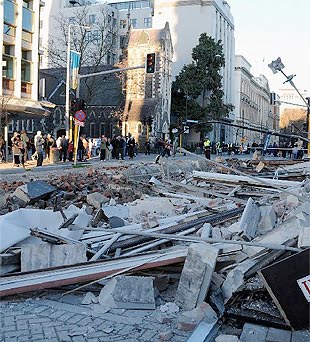 I used to live in this bedroom back in the '80s.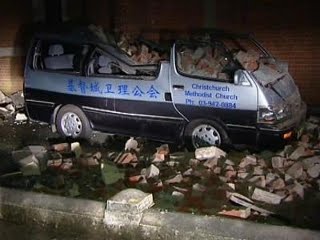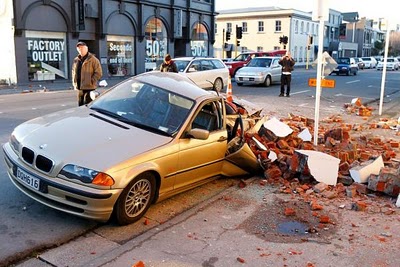 Amazingly, no one was killed.
The damage is huge, but people love this town and we'll be back up and running pretty quickly.
There is a lot of pride in this city. We won't stay down for long.
CAJ note: please go to New Zeal to view all of Trevor's photos. We ask our generous readers to give what they can because it's late winter in New Zealand and many, many people are now homeless, as you can imagine after viewing these images. Thank you!