[CAJ warning: the series of links in this post are not suitable reading for young children or anyone easily offended by sexual discussions.]
by Jim Hoft
BigGovernment.com
12/11/2009
In March 2000 the Gay, Lesbian, and Straight Education Network (GLSEN) organization of Massachusetts held its 10 Year Anniversary GLSEN/Boston conference at Tufts University. This conference was fully supported by the Massachusetts Department of Education, the Safe Schools Program, the Governor's Commission on Gay and Lesbian Youth, and some of the presenters even received federal money. During the 2000 conference, workshop leaders led a "youth only, ages 14-21″ session that offered lessons in "fisting" a dangerous sexual practice. During the same workshop an activist asked 14 year-old students, "Spit or swallow?… Is it rude?" The unbelievable audio clip is posted here. Barack Obama's "Safe Schools Czar" Kevin Jennings is the founder of GLSEN. He was paid $273,573.96 as its executive director in 2007. Jennings was the keynote speaker at the 2000 GLSEN conference.
Unfortunately for GLSEN, undercover journalists with Mass Resistance recorded these outrageous sessions at Tufts University. The audio was later leaked to a local radio station. This created such an uproar that GLSEN leaders were forced to apologize for their disgusting behavior.
Despite the controversy, Barack Obama's Safe Schools Czar Kevin Jennings and his GLSEN organization did nothing to clean up their act. In fact in 2001 activists handed out "fisting kits" to the children and teachers who attended the GLSEN conference.
But that's not all. The children who attended Kevin Jennnings' GLSEN 2005 Conference also left with their own "Little Black Book – Queer in the 21st Century".
Here's one page from that Black Book for teens: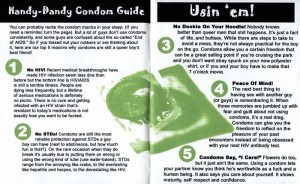 The entire Little Black Book is posted here.
And, here's the transcript from item #3 above:
"No Dookie On Your Noodle! Nobody knows better than queer men that sh*t happens. It's just a fact of life…and butts*x. While there are steps to take to avoid a mess, they're not always practical for the boy on the go. Condoms allow you a certain freedom that can be a great selling point if you're cruising the park and don't want stray spunk on your new polyester shirt…"
So, basically, in the crudest language imaginable, GLSEN recommended that "boys" go out cruising for anonymous anal sex in public parks with strangers.
Thanks to a reader for pointing this out.
Today Kevin Jennings, the founder of GLSEN, is Barack Obama's Safe Schools Czar.
There's more to come.
UPDATE: Grassroots Nation has started a petition to fire Kevin Jennings. Please think of your kids and go sign it now!
* * * * * * *
Jim Hoft's extension coverage of this story, beginning on 12/7/2009, is here at BigGovernment.com