In this transcript of the speech he delivered to the Republican National Convention this evening, "the former congressman and ex-Obama backer says Republicans 'have a country to turn around.' "
BET
8/28/2012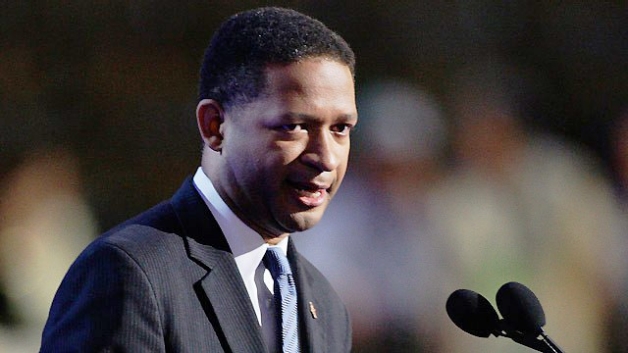 Ladies and gentlemen, thank you.
Some of you may know, the last time I spoke at a convention, it turned out I was in the wrong place.
So, Tampa, my fellow Republicans, thank you for welcoming me where I belong.
We have a country to turn around. This week you will nominate the most experienced executive to seek the presidency in 60 years in Mitt Romney.
He has no illusions about what makes America great, and he doesn't confuse the presidency with celebrity, or loftiness with leadership.
What a difference four years makes.
The Democrats' ads convince me that Governor Romney can't sing, but his record convinces me he knows how to lead, and I think you know which skill we need more.
Now, America is a land of second chances, and I gather you have room for the estimated 6 million of us who know we got it wrong in 2008 and who want to fix it.
Maybe we should have known that night in Denver that things that begin with plywood Greek columns and artificial smoke typically don't end well.
Maybe the Hollywood stars and the glamour blinded us a little: you thought it was the glare, some of us thought it was a halo.
But in all seriousness, do you know why so many of us believed? We led with our hearts and our dreams that we could be more inclusive than America had ever been, and no candidate had ever spoken so beautifully.
But dreams meet daybreak: the jobless know what I mean, so do the families who wonder how this Administration could wreck a recovery for three years and counting.
So many of those high-flown words have faded…
…We don't need flowery words about inequality to tell us that, and we don't need a party that has led while poverty and hunger rose to record levels to give us lectures about suffering.
Ladies and gentlemen, there are Americans who are listening to this speech tonight who haven't always been with you, and I want you to let me talk — just to them – for a moment.
I know how loaded up our politics is with anger and animosity, but I have to believe we can still make a case over the raised voices.
There are Americans who voted for the president, but who are searching right now, because they know that their votes didn't build the country they wanted.
To those Democrats and independents whose minds are open to argument: listen closely to the Democratic Party that will gather in Charlotte and ask yourself if you ever hear your voice in the clamor.
Ask yourself if these Democrats still speak for you…
Read the entire transcript at BET.
Update:  Video, Transcript: Ann Romney's Speech at the Republican National Convention
…Mitt doesn't like to talk about how he has helped others because he sees it as a privilege, not a political talking point. And we're no different than the millions of Americans who quietly help their neighbors, their churches and their communities. They don't do it so that others will think more of them.

They do it because there IS no greater joy.

"Give and it shall be given unto you."…
Also, DNC Chair Antonio Villaraigosa: Republicans "Can't Just Trot Out A Brown Face"… Yes, we get it, we're all racists.
Update 2:  Tonight at Drudge: