John Stossel
FoxBusiness.com
4/27/2010
When supermodel Gisele Bundchen was appointed United Nations environmental ambassador last year, she told reporters what inspired her activism.
"I started paying attention to what was happening with the environment when I had a visit to the Xingu area of the Amazon in 2003. I spent a week with an Indian tribe…"
Now the environmental ambassador and her husband Tom Brady are building a 20,000 square-foot home with a six-car garage, an elevator and a lagoon. And an elevator – although that contradicts environmental advice Bundchen offers on her Web site: "take the stairs."
"In addition to exercising, you save the electric power of the elevators," she says on giselebundchen.com, which is festooned with references to Earth Day.
[CAJ note: For context: A 20,000 square foot building is 2,000 square feet less than one-half acre in size. A 2,000 square foot dwelling is generally considered a slightly larger than average sized family home by U.S. contractors. ]
See also JammieWearingFool: Famed Environmental Wackos Building 20,000 Square Foot House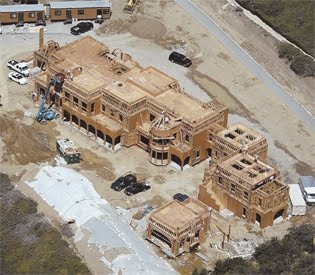 Well, at least when Earth Hour rolls around next year they'll probably save a couple hundred bucks powering down.
Read the whole hilarious thing, with video, at JammieWearingFool.