Instapundit
Posted by Glenn Reynolds at 9:21 am
APRIL 11, 2010
GROUP PLANS TO "Crash The Tea Party" with fake racist signs: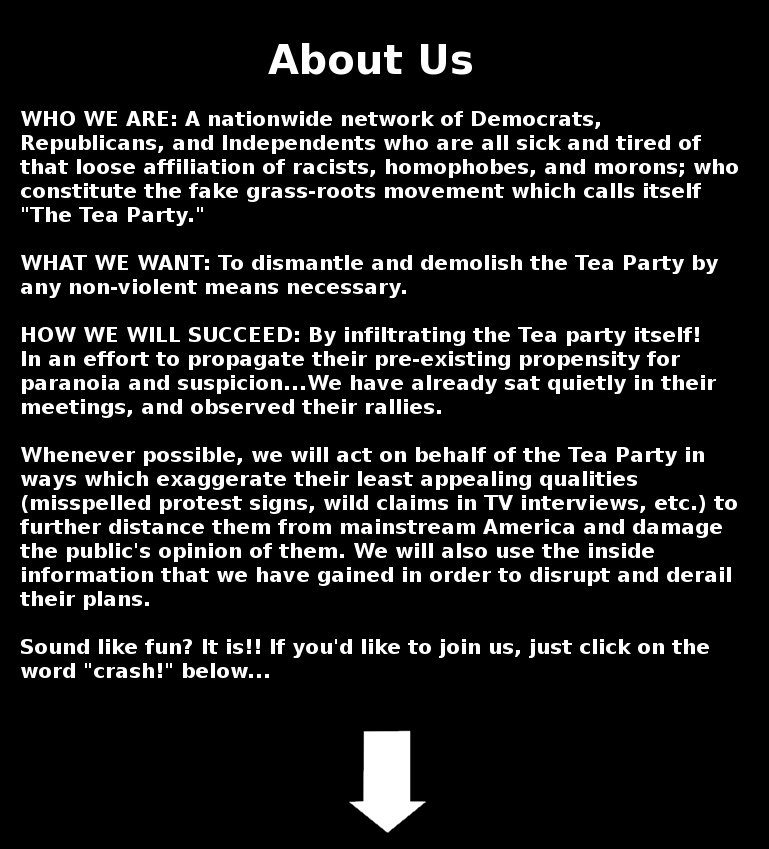 Instapundit UPDATE: TigerHawk asks some questions. On the Internet, nobody knows if you're a dog. But Occam's razor still applies.
CAJ Note: So we checked their Twitter page @tpartycrasher to see who they follow. These, for instance:
@Count_Down (Keith Olbermann)
@nprpolitics (NPR Politics)
@StephenAtHome (Stephen Colbert)
@maddow (Rachel Maddow)
@MotherJones
@ACLU
@openleft
@MoveOn (ah…Soros-backed MoveOn.org…what a surprise!)
@codepinkalert (Code Pink)
@coffeepartyprog (CoffeePartyProgress)
@basharepublican (Bash A Republican/Joe Walley)
@proudlib (Proud Liberal)
And, following the link to the Facebook page:
Sex: Male
Current City: San Francisco, CA
Birthday:January 1, 1980
Relationship Status: In a Relationship
Anniversary:February 2, 2002
Interested In: Women,Men
Looking For: Friendship, Networking
Political Views:Progressive
Religious Views: Agnostic
Website:http://www.crashtheteaparty.org
http://twitter.com/tpartycrasher
Go to "Maddy's" Facebook page to read the whole thing.
Sarah Palin was right about Progressive bloggers. But you have to admire "Maddy's" efforts to support himself by trying to sell a few tee-shirts.
So, how many Republicans and Independents do you reckon really belong to CrashTheTeaParty? This is straight out of Alinsky's Rules for Radicals.
Don't allow folks like this to ruin your Tea Party.
UPDATE: From one of Althouse's very clever readers:
Fen said…
Libtards lose again.
FreeRepublic tracked the perp down – he's a typical brownshirt leftist.
http://www.freerepublic.com/focus/f-news/2490291/posts
Luckily, freeper HOYA97 was able to grab the true registry info before it was changed to cover Mr. Levin's tracks.
Registrant ID: CR45137659
Registrant Name: Jason Levin
Registrant Street1: xxxx SW Birch Street
Registrant City: Portland
Registrant State/Province: Oregon
Registrant Postal Code: 97223
Registrant Country: US
Registrant Phone:+1. 503 936 xxxx
Registrant Email: xenex11@gmail.com
So now we learn the website's true owner is Jason Levin of Portland, OR. His attempt to hide his info by using "Ben Franklin" and "Philadelphia" came from his Myspace page (found by freeper correctthought) as Franklin is listed as his hero and Philly was listed as his hometown. His Myspace page uses the screen name "xenex11" which also was listed on the original registry info.
Freeper csd found Mr. Levin's twitter account and his linkein account.(xenex11 used once again) From linkein we learn:
Jason Levin
Owner, MCG Technology Solutions
Portland, Oregon Area
• Owner (Sole Proprietorship) at MCG Technology Solutions
• Technology Teacher at School District of Philadelphia
Education
• San Francisco State University
• Temple University
• Bensalem High School
4/11/10 3:27 PM