Wrote Seth MacFarlane to Rush Limbaugh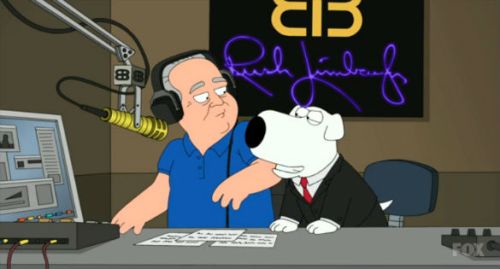 Jim Hoft
The Gateway Pundit
2/26/2013
…MacFarlane hosted the Academy Awards on Sunday night.
Rush has appeared on Seth MacFarlane's Family Guy three times.
Rush Limbaugh reported:
As you know, I have appeared on the Family Guy TV show three times, and one time was the focal point.

I've been in the recording studio with Seth, and I don't care what you think of him: The man is profoundly, supremely talented. Now, there are a lot of characterizations about how he uses it and what direction he takes it, but there's no denying his talent, and he's a profoundly hard worker. I sent him an attaboy note yesterday morning. I sent him a wish-you-well kind of note. He wrote back and said, "You know what? I kind of understand how you conservatives feel about the media now."

Because they were already proclaiming him the worst host ever before the show had even aired. I mean, 12 hours before the show….
The article continues at The Gateway Pundit.
Update: Just some item about the Academy Awards show over at Jezebel. I thought you should know, at Althouse.