Larry Solov
Big Government
3/1/2012
With a terrible feeling of pain and loss we announce the passing of Andrew Breitbart.
Andrew passed away unexpectedly from natural causes shortly after midnight this morning in Los Angeles.
We have lost a husband, a father, a son, a brother, a dear friend, a patriot and a happy warrior.
Andrew lived boldly, so that we more timid souls would dare to live freely and fully, and fight for the fragile liberty he showed us how to love.
Andrew recently wrote a new conclusion to his book, Righteous Indignation:
I love my job. I love fighting for what I believe in. I love having fun while doing it. I love reporting stories that the Complex refuses to report. I love fighting back, I love finding allies, and—famously—I enjoy making enemies.

Three years ago, I was mostly a behind-the-scenes guy who linked to stuff on a very popular website. I always wondered what it would be like to enter the public realm to fight for what I believe in. I've lost friends, perhaps dozens. But I've gained hundreds, thousands—who knows?—of allies. At the end of the day, I can look at myself in the mirror, and I sleep very well at night.
Andrew is at rest, yet the happy warrior lives on, in each of us.
***
Media inquiries: jpollak@breitbart.com
***
CAJ note: Common American Journal offers deepest condolences to Andrew's family and friends. We are stunned and terribly saddened by this news. America lost a great patriot and a good man in the dark hours of the night. We feel an abundance of gratitude for Andrew's work, his leadership, and his love of a free America. It is up to the rest of us now.
God speed, Andrew Breitbart. May you rest in peace until we meet again.
Update:  There are some wonderful tributes to Andrew at Legal Insurrection where Professor Jacobson uploaded this tweet:
On Facebook, Phelim Mcaleer wrote: Andrew Breitbart recently spoke after my wife Ann McElhinney at a conference. He described her as "pornography for the Conservative movement". We loved the silver tongued devil.
Via PJTV, Andrew Breitbart v. The Arrogant Bastards 
Ann Althouse has posted video she made of Andrew, "speaking at a Tea Party rally here in Madison on February 19, 2011."
Update 2:  Jim Hoft has written about his relationship with Andrew at GatewayPundit. In his post Jim includes a clip of the video, Hating Breitbart.
If you want to experience just how sick and vile and hateful the Left in this country truly are [led by a President who launches witch hunts against private citizens], go to Andrew's Twitter account or follow the Twitter hashtag #AndrewBreitbart.  A man is dead and the maggots can't wait to defile him. It's time to face what we are truly up against: not the titillating adolescent conspiracy theories but the unvarnished hatred of everything you hold dear, and the potential extinction of America's liberty forever.
Here is a small sampling, via The Washington Examiner.  But you, my friends, are the racists, haters, and bigots…
The Daily Caller has additional information and these links on their homepage this morning:
VIDEO:

 Tucker Carlson remembers Andrew Breitbart [VIDEO]

MATT LEWIS:

 'The conservative cause has lost a champion'

2 WEEKS AGO: Breitbart sits down with TheDC's Ginni Thomas [VIDEO]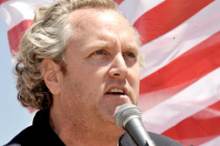 Update 3: Sarah Palin Releases Statement on Andrew Breitbart's Passing
Michelle Malkin writes a tribute:
…I saw Andrew a few weeks ago in Michigan at an Americans for Prosperity event and spent time catching up with him on a plane ride back West. We talked about the renewed vigor with which the conservative movement was fighting back against Alinskyite tactics — especially the race card. He battled hard and enjoyed every minute of it — as his always frenetic Twitter account showed until his final hours. If he were here, he'd be retweeting all the insane tweets from the Left rejoicing over his death. Even in death, he succeeds in exposing the hate-filled intolerance of the tolerance poseurs…
Read the entire post. [link corrected]
Update 4: Dennis Miller Radio expresses condolences and offers audio and video clips in memory of Andrew.
Wikipedia has a brief biography.