[CAJ: Where is President Obama?…]
The Daily Mail [UK]
by Mail Foreign Service
28th December 2009
Iran's hardline rulers have been accused of killing innocent people during a religious festival that ignited into a day of anti-government protests.
The country's state English-language Press TV said eight people lost their lives in Sunday's clashes between security forces and demonstrators.
Police had earlier reported five dead in violence in Tehran, the first fatalities since the street protests that flared immediately after the disputed presidential election in June.
'What has happened to this religious system that it orders the killing of innocent people during the holy day of Ashura?' asked moderate cleric Mehdi Karoubi, who came fourth in the election, in a statement posted on the Jaras website…
…The reports could not be independently verified because foreign media are banned from directly covering protests.
The complete article and more photographs at The Daily Mail.
Click on the photos to enlarge or go to The Daily Mail to view them.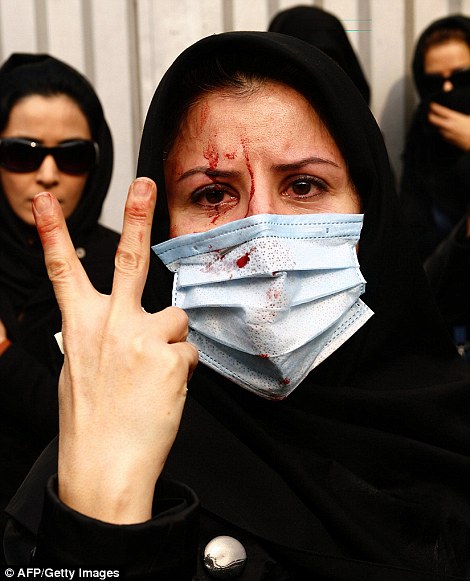 Above, an injured Iranian opposition supporter flashes a V-sign during clashes with security forces…below, a protestor, at the left, throwing a rock at anti-riot police officers, as their bikes are set on fire.
Below right, an Iranian opposition supporter covers his face with his bloodstained hand during clashes with security forces in Tehran yesterday.
* * * * * * *
This afternoon the National Review reported:
Key Reformists Arrested
As anti-government protests rage in the streets, the Iranian regime is arresting key aides and affiliates of opposition leaders. The Financial Times reports that at least three allies of Mir-Hossein Moussavi, figurative leader of the "green" movement and President Mahmoud Ahmadinejad's principal rival, and two aides to reformist and former President Mohammad Khatami have been detained without charges.
The regime has reportedly also arrested a number of reformist clerics and politicians in the holy city of Qom. The Times warns that the detentions could be a prelude to the arrest of senior opposition leadership—including Khatami and Moussavi.