Two political activists involved in the 2009 post-presidential election protest movement are hanged this morning. Iranian authorities have hanged 99 people in the past month, but the number of extrajudicial executions could be even higher.
AsiaNews.it
1/24/2011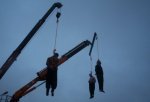 Tehran (AsiaNews) – The Iranian regime continues to eliminate leading figures from the 2009 social protest movement, known as the "green wave", causing few ripples across the world. The authorities confirmed that this morning two political activists, Jafar Kazemi and Mohammad Ali Hajaghaei, were hanged, the Tehran prosecutor's office announced. They had been arrested during the demonstrations against President Ahmadinejad's re-election. US Secretary of State Hillary Clinton had urged Iranian authorities to show clemency but to no avail.
And so the crackdown against demonstrators continues. Ayatollah Vaez Tabasi, the custodian of Imam Reza shrine, renewed his attacks [on] green wave leaders, calling them "seditious leaders who fight against Islam to promote ignorance and oppose Iran's supreme leader".
Speaking at a ceremony commemorating the shrine's foundation, the ayatollah said "severe measures" should be taken against demonstrators.
With the latest hangings, the total number of executions has reached 99 in the past month.
Official sources show that Iranian courts sentenced to death alleged terrorists, drug traffickers and "seditious leaders" between 19 December and 24 January. On 22 December 2010 alone, 22 executions were carried—the single bloodiest day in the country's modern history.
At the same time, fears are growing that extra-judicial executions are being carried out on an almost daily basis, unreported in official data.
Iranian judges "find it very difficult to sentence to death student protest leaders not involved in acts of violence," a source tell AsiaNews. "For this reason, they rely on unscrupulous prison guards who kill defendants inside detention facilities."
Common American Journal welcomes readers from Total Fark and Reddit.
Welcome to the readers from Fark.com! And we welcome readers from BartCop Entertainment.
Common American Journal welcomes readers from BritishExpats.com