Tzvi Ben Gedalyahu
Israel National News
5/22/2011
"Don't fall for U.S. President Barack Obama's magical oratory. He put a gun to Israel's head and asked it to commit suicide," National Union chairman and Knesset Member Yaakov (Ketzaleh) Katz MK wrote the American Israel Public Affairs Committee (AIPAC) Sunday.
The legislator continued, "I urge you not to be captured by his magic tongue because he actually is asking you for your votes and your money."
President Obama is scheduled to address the annual AIPAC convention in Washington Sunday night, and Prime Minister Binyamin Netanyahu will speak the following night. Both leaders traded opposing policy views in their weekend meeting at the White House, particularly on the borders of Israel, which the Palestinian Authority and President Obama want shrunk to those that existed as the temporary Armistice Lines in 1949 until the Six-Day War in 1967.
MK Katz wrote to AIPAC committee members, "The People of Israel, in the Diaspora for 2,000 years, developed a sense of who loves us and who hates us. President Obama knows very well that former Israeli Foreign Minister Abba Eban described the 1967 borders as 'Auschwitz borders.'"
The National Union chairman noted that Israeli news polls show that an overwhelming majority of Israel view President Obama as hostile to Israel.
"The People of Israel will not fall for the false charm of posters, slogans, cellophane wrappers of sweetened drugs of death", he concluded.
Related: American Power, Obama at AIPAC, where there's video of the speech, and links to Atlas Shrugs, Power Line (where there is a link to the text of the President's speech), Jennifer Rubin, and others.
At Maggie's Farm, Reactions to President Obama at AIPAC is a must-read. We'll give you two clues why the post is worth your time.
First, one of these men is the current Prime Minister of Israel.
And the other reason–that blue speck in the middle of the map, below, is Israel drawn to scale: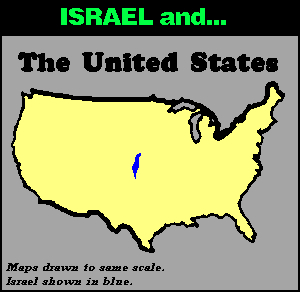 At Maggie's Farm there's also reaction from the President's speech today at AIPAC.
We would also remind readers of this article from April 2008, Allies of Palestinians see a friend in Obama
…the warm embrace Obama gave to Khalidi, and words like those at the professor's going-away party, have left some Palestinian American leaders believing that Obama is more receptive to their viewpoint than he is willing to say.

Their belief is not drawn from Obama's speeches or campaign literature, but from comments that some say Obama made in private and from his association with the Palestinian American community in his hometown of Chicago, including his presence at events where anger at Israeli and U.S. Middle East policy was freely expressed…
Read the whole thing!
* * *
A laundry list of what his administration has done for Israel. Yep. This is going to be a "What's wrong with you ingrates?" speech.

Live-blogging Obama at AIPAC
Yourish.com
Update: GatewayPundit, Obama booed at AIPAC…Barack Reneges on Bush Commitment to Israel
Update 2: The Progressive Jihad Against the Jews Continues Apace, at Founding Bloggers.
Behold, Jewish Progressives, the Honorary Chair of your Democratic Socialists of America, Cornell West, decrying the 'lying white-Jewish influence' over the President of the United States (skip to the 4:55 min mark for the bigotry)…
And a flashback video from June 2008, 'Today I speak from my heart': Obama's guarantee never to divide Jerusalem.
Update 3: Why Israel's Record on Gays is Relevant, at Gay Patriot.
…If the president is such an ally of gay people, why is he so unwilling to hold up Israel as an exemplar of how a nation in the Middle East should treat gay people?  And to encourage its Arab nations to follow that example?
And, at Weasel Zippers, Canada's PM Stephen Harper Refuses to Back Obama's Call for Israel to Withdraw to 1967 Borders.
Update 4: IMAGE CREDIT [above photo]: Theo Spark, " Netanyahu vs. Obama, at the same age …" H/T American Power