Mark Tapscott
Washington Examiner
9/27/2010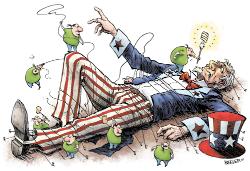 Officials of a dozen top Big Green environmental groups contributed more than $14.5 million to congressional and presidential candidates in 2008 and through the second quarter of 2010 with 96 percent of the total going to Democrats, according to an Examiner analysis of federal campaign data.
The data was compiled from the Federal Election Commission and included only donations by individuals who listed one of the 12 groups as their employer or listed themselves as an officer or director of one or more of the groups. This analysis does not include contributions by individuals who did not list an employer.
The groups included the Audubon Society, Clean Water Action, Defenders of Wildlife, the Environmental Defense Action Fund, Friends of the Earth, League of Conservation Voters, Natural Resources Defense Council, Nature Conservancy, Ocean Champions, Sierra Club, the Trust for Public Land and the Wilderness Society…
…Six of the dozen collectively received more than $160 million in federal grants and contracts, according to their 2008 or 2007 IRS tax returns, with the Nature Conservancy's $110.6 million being the highest, followed by the Trust for Public Land ($28 million), Audubon Society ($17.5 million), the Environmental Defense Fund (parent of the EDF Action Fund) with $3.6 million, Natural Resources Defense Council ($358,072) and Defenders of Wildlife ($205,021).
Employees of these six receiving federal dollars gave nearly $6.6 million to Democratic candidates in the 2008-2010 period covered and $313,348 to Republicans. Two of the six have PACs…
…President Obama was the biggest recipient by far of contributions with a total of more than $2.4 million. Secretary of State Hillary Clinton, who was Obama's main 2008 primary rival, got $86,500.
Other notable Democrats received large amounts, including Sen. Barbara Boxer of California ($130,766), Sen. Al Franken of Minnesota ($114,701), Rep. Donna Edwards of Maryland ($109.302) and Rep. Martin Heinrich of New Mexico ($247,674).
Obama's biggest groups of environmental supporters came from the Sierra Club ($917,965) and Defenders of Wildlife ($905,375)…
…Pajamas Media looks at how Big Green ended Rep. Marilyn Musgave's political career
Pajamas Media's Charlie Martin looks at how Big Green targeted conservative Colorado Republican Rep. Marilyn Musgrave for defeat, then poured hundreds of thousands of dollars into her opponent's campaign in a successful effort to remove her from Congress.
Read the entire article at the Washington Examiner.
See also The Washington Examiner and PJTV: The big money & the global governance agenda that fuels environmentalism
Update: Heh… Dem Baucus seeks probe of GOP groups
…Baucus said "The tax exemption given to non-profit organizations comes with a responsibility to serve the public interest and Congress has an obligation to exercise the vigorous oversight necessary to ensure they do."
Baucus leads the Senate Finance Committee, which has oversight authority over non-profits and the IRS, and in his letter he asked the IRS to identify "possible violation of tax law" and suggested those could result in non-profits losing their tax-exempt status. He also indicated that based on the IRS's findings he might open his own committee investigation and may "take appropriate legislative action."
Though Baucus cited only GOP-leaning groups as his causes of concern, his letter asks the agency to "survey major 501(c)(4), (c)(5) and (c)(6) organizations involved in political campaign activity" – and 501(c)5 is the tax classification of unions, which almost exclusively support Democrats.
Sill, spending by independent groups supporting Republicans has dwarfed that supporting Democrats this cycle and Baucus's request is likely to draw criticism cries of politicking from the right…