Patrick Howley
The Daily Caller
3/5/2014
Ex-IRS official Lois Lerner's attorney Bill Taylor held a press briefing Wednesday after his client pleaded the Fifth Amendment at a House Oversight hearing, prompting Oversight chairman Rep. Darrell Issa to adjourn the hearing. It remains unclear whether Issa will seek to hold Lerner in contempt of Congress.
Taylor told The Daily Caller and other reporters that Lerner has not waived her Fifth Amendment rights as Issa claimed and that Lerner believes the entire issue is over for her now. Taylor also said that he did not read Issa's most recent report but is sure that it is inaccurate and that Lerner's attempt to delay her testimony was intended to give her "a breather" of seven more days after a ten-month scandal. Here are ten takeaways from the press briefing…
…5. Taylor first denied, then admitted that he negotiated for immunity on Lerner's behalf

"She hasn't been negotiating for immunity. … That's simply not true," Taylor said.

Taylor then admitted that he put forth a proffer to the Oversight committee for immunity at "a meeting in January" which was convened "at their [the committee's] suggestion."

"Why don't you solve everybody's problem and will you give her a proffer?" Taylor said the committee asked him, to which he responded with a proffer for immunity.

Taylor conceded that characterizing the January meeting as a negotiation for immunity is "OK with me." He also paraphrased Republican Rep. Trey Gowdy's comment that the committee would not grant her immunity and suggested, therefore, that no incentive exists for Lerner to seek immunity.

"I should give them a proffer but they're not going to immunize us?"…

…10. Lerner believes that the whole matter is over for her now

Taylor said that the hearing has been adjourned, that Lerner has been relieved, and that she will make no further statements or give any testimony unless forced to. Taylor said that Oversight "would have to start all over" in its investigation to compel Lerner back to the witness stand…
Read the entire article at The Daily Caller.
Related:   Elijah Cummings Gives Oscar-Worthy Performance in IRS Hearing Freakout
…For the second time in less than a year, Lois Lerner, the former Director of Tax-Exempt Organizations at the IRS, asserted her 5th Amendment right to remain silent.

Right on cue, Cummings went Al Pacino (And Justice for All) on everyone, but his outrage doesn't stem from the fact that, yet again, the person who can unlock the truth about what really happened at the IRS but refuses to speak; that would be too obvious and actually make sense.

Instead, Cummings directed his ire at the Committee's chairman for adjourning the hearing and launched into a riveting display of righteous indignation.

"You cannot have a one-sided investigation…" – but wait a minute – whose fault is it that it's one-sided?

Cummings already dismissed the investigation in May of 2013 and declared on national television that the Committee should "move on."
He can't really express outrage that he isn't a part of an investigation he already forfeited his place in by saying the case was "solved?" …
IRS hearing devolves into shouting match after Lerner pleads the Fifth. Video at GlennBeck.com
At CainTV.com,  Democrat Rep. Elijah Cummings loses his mind after Lois Lerner pleads the Fifth  (video)
…It seems ranking Democrat Rep. Elijah Cummings had planned on doing some of his patented "inane grandstanding," and Issa derailed his intentions. Cummings would not be denied. First, he tried to pretend that he had a legitimate question, but then immediately launched into his standard set of rambling talking points. So, Issa dismissed everyone in the room and cut the power to Cummings' microphone.

This triggered a meltdown that rivalled the Fukushima reactor. Seriously. Cummings completely lost it.

"I AM A MEMBER OF THE CONGRESS OF THE UNITED STATES OF AMERICA," He bellowed. "AND I AM TIRED OF THIS!!!" …
Exhibit from IRS hearing (note: CINCY part…) – GretaWire: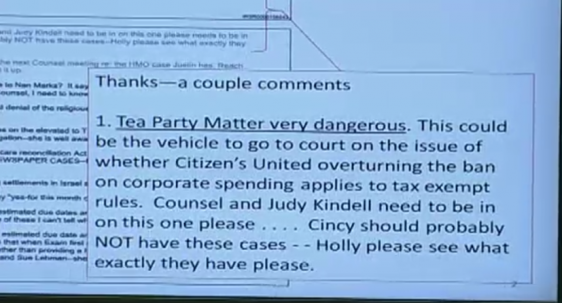 Issa to Lerner: Why would you say Tea Party cases were very dangerous?  (video)
…Watch the short video…to hear all the questions Issa asked Lerner, including one about testimony from an IRS manager that said she ordered Tea Party cases to undergo a multi-tiered review…
Trey Gowdy: TRUST ME, I've been doing this for 16 years; We can get Lois Lerner to talk…  (video)
Trey Gowdy says the reason they expected Lois Lerner to testify is because that's what her lawyer told them she would do. But apparently Lerner changed her mind after she heard Gowdy and Issa's comments over the weekend and decided she would not testify. But Gowdy said if there was ever any expectation on her part that they were going to go easy on her, she was mistaken…
Here's why Lois Lerner could be the Webb Hubbell of the IRS scandal
…Even so, Lerner is still trapped. On the one hand, she was deeply involved in it and was the first IRS official to admit the agency's targeting and harassment. On the other, how can somebody claim innocence while demanding immunity from criminal prosecution?

The only way out of the trap is for Lerner to give up somebody important higher-up. That path may lead straight to the Obama White House. There is no reason to think she will do that, based on her professional history. Look for her to follow the Hubbell example…

Update: Editorial: I Have the Smoking Gun in Obama's IRS Scandal
…the media and Republicans in Congress are missing the larger picture. They keep thinking this scandal involves nameless, faceless Tea Party groups. That's only the tip of the iceberg. That's what Obama hopes we all think. This "IRS targeted the Tea Party" is the distraction to make us miss the real scandal. Congress needs to expand this investigation…