"Do we want to extend those tax breaks for millionaires and billionaires at a time of huge deficits. I would argue vociferously we shouldn't," said Sen. Chuck Schumer, D-N.Y., shortly before the votes.
Republicans countered that no taxes should be raised at a time the economy is recovering from a recession. "It is the most astounding theory I have ever seen, raise taxes to create jobs," said Sen. John Thune of South Dakota.
Michelle Malkin
12/4/2010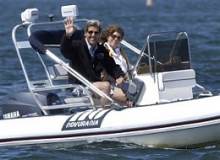 …While the class warfare Dems take to the floor to bash "the rich," here's a helpful public service reminder of who their "rich" are:
In Congress:
The 50 wealthiest lawmakers were worth almost $1.4 billion in 2009, about $85.1 million more than 12 months earlier, according to The Hill's annual review of lawmakers' financial disclosure forms.

Sen. John Kerry (D-Mass.) tops the list for the second year in a row. His minimum net worth was $188.6 million at the end of 2009, up by more than $20 million from 2008, according to his financial disclosure form.

…There were a few other new faces in the Top 50, including Rep. Patrick Kennedy (D-R.I.), who received an inheritance after his late father, Sen. Edward Kennedy (D-Mass.), died in 2009. Sen. Ron Wyden (D-Ore.) and Rep. Tom Petri (R-Wis.) also made the list.

Twenty-seven Democrats along with 23 Republicans make up the 50 richest in Congress; 30 House members and 20 senators are on the list.

…Rep. Darrell Issa (R-Calif.), with a net worth of $160.1 million, is the second-richest member of Congress under The Hill's formula, even though his wealth declined by more than $4 million in 2009.

He is followed by Rep. Jane Harman (D-Calif.), who saw her net wealth leap to $152.3 million, a jump of more than $40 million from a year ago.

The rest of the top 10 are Sen. Jay Rockefeller (D-W.Va.), McCaul, Sen. Mark Warner (D-Va.), Rep. Jared Polis (D-Colo.), Rep. Vern Buchanan (R-Fla.), Sen. Frank Lautenberg (D-N.J.) and Sen. Dianne Feinstein (D-Calif.).
(Speaking of Kerry, has he paid his yacht taxes yet?)
On Obama's donor list and inner Wall Street circle:
The Wall Street gamblers that Obama and his wife carped about on the campaign trail were shoveling money to his campaign hand over fist. According to the Center for Responsive Politics, hedge funds and private equity firms donated $2,992,456 to the Obama campaign in the 2008 cycle. Obama, erstwhile critic of the campaign finance practice known as "bundling," happily accepted more than $200,000 in bundled contributions from billionaire hedge-fund manager James Torrey, more than $100,000 in bundled contributions from billionaire hedge-fund manager Paul Tudor Jones and more than $50,000 in bundled contributions from billionaire hedge-fund manager Kenneth C. Griffin, chief executive officer of Citadel Investment Group in Chicago.

No fewer than 100 Obama bundlers are investment CEOs and brokers: nearly two dozen work for financial giants such as Lehman Brothers, Goldman Sachs, or Citigroup.

By comparison, multi-house dweller and Evil Republican Rich Guy John McCain received $1,699,525 from the industry—that's more than forty percent less than Obama took.

Now, the hedge fund managers, statist bankers, corporate lobbyists, and lax regulators Obama incessantly cursed are the same ones whom he has appointed to "fix" the "system and culture" they created—and from which they all profited greatly.

"We can't afford eight more years or four more years or one more year of the failed economic policies that George Bush has put in place," Obama proclaimed on the campaign trail. But just like George Bush, Barack Obama is relying on Goldman Sachs/Wall Street power brokers to engineer massive government interventions to "rescue" failing businesses with the tax dollars of ordinary Americans….

…Carol Browner, assistant to the president for energy and climate change, disclosed earnings of between $1 million and $5 million from lobbying firm Downey McGrath Group, Inc., where her husband, Thomas Downey, is a principal. She states $450,000 in "member distribution" income, plus retirement and other benefits from The Albright Group, a lobbying firm whose principals include former Secretary of State Madeline Albright…
…Democrat class-warfare demagogues believe that wealthy liberals who don't want to pay higher taxes deserve high public office, while everyone else with means deserves public excoriation.
Read the complete article at Michelle Malkin.com