War On Terror News
Sunday, December 27, 2009
96th Sustainment Brigade
12.25.2009 CAMP LIBERTY, Iraq – When someone thinks of the desert, images are invoked of unbearable heat and an extremely dry climate where no one would volunteer to live. What is commonly overlooked, is how cold it becomes during the winter months or how a Soldier manages to handle the extreme temperature changes.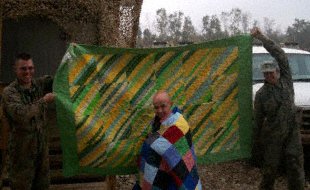 The U.S. Army ensures Soldiers have the best equipment possible to handle any environment or situation. But an Extreme Cold Weather GENEX III Sleep System just does not have the feel of home, when deployed 6500 miles away, according to Capt. Scott Burnett, the battalion communications officer from Oklahoma City, Okla. This is the story of how, from a simple request, an organization was created to ensure that Soldiers deployed receive that little bit of comfort and touch from home.
Maggie Jones, from Republic, Mo., and the mother of Chief Warrant Officer 2 Deron Jones, an Ogden, Kan. resident, and a maintenance technician with the 1st Maintenance Company, 260th Combat Sustainment Support Battalion, 96th Sustainment Brigade, 13th Sustainment Command (Expeditionary), received a call in September 2003 that changed her life completely.
According to Jones, he was deployed to Iraq in 2003 and called his wife stating that he was cold and would like some blankets from home. She in turn called his mother Maggie, thinking a homemade quilt would do the trick. Maggie enlisted the help of several of her friends to help her. She put out a request on the internet for blocks to make a quilt. If she had more blocks, she would make more quilts and send them for other Soldiers. By December, Maggie and her friends had made 40 quilts for her son to hand out.
"I was expecting just a fleece blanket," says Jones. "But my mom thought I should have something better." As word got out about the quilts, request from Families wanting their Soldier to have a quilt kept pouring in. Maggie and her friends agreed that they wanted to ensure that any Soldier serving could receive this touch of home and so they created Quilts with Love.
The article continues here.