"…we live in a world where the architects of the financial crisis regularly dine at the White House — and where even those brought to 'justice' never even have to admit any wrongdoing, let alone be labeled 'felons.' "
Josh Peterson
The Daily Caller
1/12/2013
Aaron Swartz — Internet activist, RSS co-author and Reddit co-founder — committed suicide in New York on Friday, reported The Tech, MIT's newspaper.
Swartz's uncle and attorney both confirmed the news to the publication.
"The tragic and heartbreaking information you received is, regrettably, true," said Elliot R. Peters of Kecker and Van Nest, Swartz' attorney, in an email to The Tech.
Swartz was a co-founder of the digital activist organization Demand Progress, which was one of the Internet freedom organizations instrumental in the fight against SOPA and PIPA. He was also a co-founder of the Progressive Change Campaign Committee.
In July 2011, Swartz was charged with allegedly downloading and distributing more than 4 million documents — many in the public domain — from MIT and journal archiving service JSTOR.
He was charged in September 2012 with 13 counts of felony hacking.
Demand Progress had said at the time that the Justice Department's indictment of Swartz was like "trying to put someone in jail for allegedly checking too many books out of the library."
He pled not guilty in September 2012, but still faced possible prison time, ZDNet reported, noting that his financial woes generated during his struggle against the Justice Department were no secret…
The article continues at The Daily Caller.
Related:  Aaron Swartz's family, friends blame MIT, federal government for suicide
…JSTOR dropped charges against Swartz, but the U.S. Attorney's Office decided to pursue the case anyway. Swartz, who pleaded not guilty, was charged with 13 counts of felony hacking, potentially facing a million-dollar trial in April and approximately 30 years in federal prison.

Swartz committed suicide two days after JSTOR decided to make 4.5 million documents publicly available online…
MIT.edu Currently Down Following Investigation Into Swartz Tragedy
Following calls for an investigation into the prosecution and recent suicide of internet activist, Aaron Swartz, MIT's website is currently down. MIT's President L. Rafael Reif today called for an investigation into the handling of the case brought against Swartz for his release of pay-walled academic papers from popular database, JSTOR.

There is a possible connection to the hacktivist organization, Anonymous…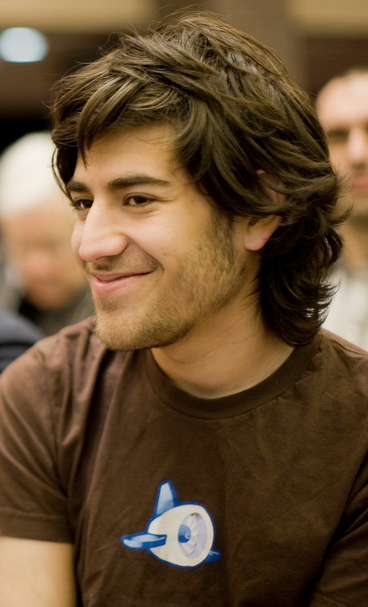 Update: Aaron Swartz, Coder and Activist, Dead at 26
…When he was 14 years old, Aaron helped develop the RSS standard; he went on to found Infogami, which became part of Reddit. But more than anything Aaron was a coder with a conscience: a tireless and talented hacker who poured his energy into issues like network neutrality, copyright reform and information freedom.  Among countless causes, he worked with Larry Lessig at the launch of the Creative Commons, architected the Internet Archive's free public catalog of books, OpenLibrary.org, and in 2010 founded Demand Progress, a non-profit group that helped drive successful grassroots opposition to SOPA last year…
At American Power Blog, Can We Just Not Get All Sentimental About Aaron Swartz, to the Effect of Martyring the Dude, or Anything Like That?
Update 2: Obama's 'kill list' critic found dead in New York City
Prominent American blogger and computer prodigy Aaron Swartz, who spoke against US President Barack Obama's "kill list" and cyber attacks against Iran, has been found dead in New York…
At Legal Insurrection, Sad irony in Aaron Swartz case
Also, "I worry that Swartz's prosecution is a sign that America is gradually losing the sense of humor that has made it the home of the world's innovators and misfits."
The left has been humorless for a long, long time…
Update 2: EXCLUSIVE: Attorney for Aaron Swartz: Prosecutors' Arguments Were "Disingenuous and Contrived"
Corrected