It's all about unions in solidarity, you know.
20 February 2011
Here's a list of events coming up in your state this week. The list will continue to grow, probably by the hour, so keep checking back in. Use the sign-up form …and one of our organizers will be in touch with more information about the event.
Note: these are not all SEIU events – most are sponsored by other unions, but everyone is welcome to attend [Emphasis CAJ]
Events on Monday February 21, 2011 (All times local)
Indiana
Rally
Time: 9 A.M.
Location: Indiana State Capitol
Address: 302 W Washington St – Indianapolis, IN
Montana
Rally
Time: 2 P.M.
Location: Montana State Capitol
Address: 1301 East 6th Avenue – Helena, Montana
Nevada
Rally
Time: 12 P.M.
Location: Nevada State Capitol
Address: 101 North Carson Street – Carson City, NV 89701
North Carolina
Rally
Time: 12 P.M. Location:
Address: 1 East Edenton Street – Raleigh, NC 27601
Oregon
Rally
Time: 12 P.M.
Location: State Capitol
Address: 900 Court St. NE – Salem, OR 97301
Texas
Candlelight March and Vigil
Time: 6:45 P.M.
Location: Meet at TX AFL-CIO
Address: 1106 Lavaca St. – Austin, TX. 78701
Wisconsin
Rally
Time: All Day
Location: State Capitol
Address: 2 East Main Street – Madison, WI. 53702
Events on Tuesday February 22, 2011 (All times local)
California
Vigil
Time: 5:30 P.M.
Location: State Capitol West Steps
Address: 1315 10th Street – Sacramento, CA 95814
California
Vigil
Time: 5:30 PM
Location: Poncitlan Square
Address: 38315 9th Street East – Palmdale, CA. 93550
Colorado
Rally
Time: 12:00 P.M.
Location: Colorado State Capitol
Address: 200 East Colfax Avenue (West Steps) – Denver, CO. 80203
Iowa
Rally
Time: 1:00 PM
Location: Iowa State Capitol
Address: 1007 East Grand Avenue – Des Moines, IA
Maryland
Rally
Time: 12:00 PM
Location: Lawyers' Mall, Maryland State House
Address: 100 State Circle – Annapolis, MD. 21401
Massachusetts
Rally
Time: 4:00 PM
Location: State House
Address: 1 Ashburton Pl – Boston, MA 02108
Massachusetts
Rally
Time: 4:00 PM
Location: City Hall Steps
Address: 36 Court Street – Springfield, MA 01103
Minnesota
Rally
Time: 4:00 PM
Location: Minnesota State Capitol
Address: 75 Constitution Ave – St. Paul, MN 55101
Ohio
Rally
Time: 1:00 PM
Location: Capitol Building
Address: 1395 Dublin Rd – Columbus, OH 43215
New Mexico
Rally
Time: 12:15 PM
Location: East Side of the State House
Address: 490 Old Santa Fe Trl # 219 – Santa Fe, NM 87501
Rhode Island
Rally
Time: 4:30 PM
Location: Rhode Island State House
Address: 90 Smith St – Providence, RI 02903
Vermont
Rally
Time: 12:00 PM
Location: Vermont State Capitol Building
Address: 115 State Street – Montpelier, VT. 05602
Wisconsin
Rally
Time: All Day
Location: State Capitol
Address: 2 East Main Street – Madison, WI. 53702
Events on Wednesday February 23, 2011 (All times local)
Connecticut
Rally
Time: 12:00 PM
Location: State Capitol Building, West Steps
Address: 210 Capitol Avenue – Hartford, CT. 06106
Georgia
Rally
Time: 4:00 PM
Location: State Capitol Building
Address: 206 Washington St – Atlanta, GA, 30334
Pennsylvania
Rally
Time: 12:00 PM
Location: Lackawana Court House
Address: 200 Adams Avenue – Scranton, PA 18503
Events on Thursday February 24, 2011 (All times local)
Ohio
Protest against Governor Kasich
Time: 4:00 PM
Location: Canton Civic Center
Address: 1101 Market Ave N. – Canton, Oh 44702
* * *
Read about planned AFL-CIO rallies HERE.
Sixty-thousands working people were at the Wisconsin state capitol in Madison yesterday continuing the massive protests against Gov. Scott Walker's (R) assault on middle-class jobs and workers' collective bargaining rights–and they're coming back again today. Between 1,000 and 2,000 tea partiers turned out yesterday–but guess who got the big media coverage?

Let's keep spreading the real news via our social media channels so the truth gets out widely. On Twitter use hashtags #notmywi and #stateSOS. Add your voice on the We Are One solidarity page on Facebook .
H/T iOwnTheWorld
and H/T Michelle Malkin
What big labor is teaching kids in WI…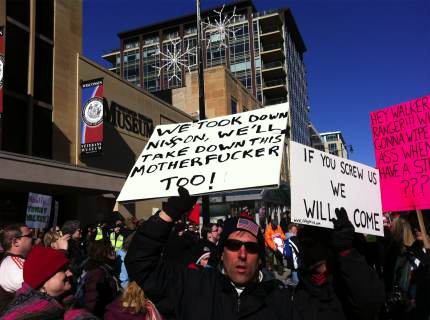 ["Civility" is a two-way street, chaps!]
There's more of this at MichelleMalkin.com Both photos from this page are from that link.
Yes, even a few Wisconsin Democrat officials are embarrassed by some of the vulgar signs. Tim Graham of the Media Research Center lays out the Left's incurable double standards over the last two years:
Democratic Party of Wisconsin Chairman Mike Tate is condemning signs carried by pro-labor protesters that compare Wisconsin Gov. Scott Walker to Hitler, Benito Mussolini and Hosni Mubarak and showed the governor with a cross-hairs rifle sight over his face.

In an interview with CNSNews.com, Democratic Party of Wisconsin Press Secretary Graeme Zielinski said that Tate and the party "absolutely" condemn the inflammatory signs but says that they are not representative of the majority of the protesters who have taken to the streets in opposition to the Governor's plan.

"This is absolutely not representative of what the protest is that's out there," said Zielinski. "Frankly it's offensive to a lot of the protesters, average working men and women who are out here with their families peaceably demonstrating and exercising their first amendment rights."

…Tim Graham, director of media analysis for the Media Research Center the parent organization of CNSNews.com, praised the State Democratic Party for condemning the signs and agreed that those wielding them make up only a fraction of the protesters.

However, Graham also pointed to what he said was a double standard when it came to the media's coverage of inflammatory behavior depending on which side of the political spectrum was involved.

"The big difference is that throughout the last couple of years with the Tea-Party movement the media and the Democrats made an enormous big deal out of the tenor of signs," said Graham. "Whether they were Obama with a Hitler mustache or Obama in a Witch doctor outfit or violent imagery."

"The real double standard here is that while the media was constantly harping on tea-party, they're not harping on signs this time around. We've seen some of these signs going by in the stories but there's no commentary on them. So you might see a sign saying "Hosni Walker" flash on your screen, but there's nobody saying "extreme," Graham told CNSNews.com.

"Nobody's worried about the tenor of the rhetoric and that's a double standard. What the media was trying to do to the tea-party was suggest that they were, as a whole, a group of freaks. In this case they're basically describing them as poor teachers who are being denied their rights."
Update: Head of Wisconsin Teachers' Union Calls for Teachers to Return to Classrooms
MADISON, Wis.–The head of Wisconsin's powerful teachers' union is calling on educators to return to classrooms Monday and Tuesday rather than continue being absent to protest an anti-union bill at the state Capitol.

The protests against a bill that would take away public workers' right to collectively bargain for their benefits and working conditions forced several school districts to shut down last week after teachers called in sick to join demonstrators in Madison.

Mary Bell is president of the Wisconsin Education Association Council. She said on Sunday that it's time for her members to return to work. For districts that do not recognize Monday as the President's Day holiday, she said teachers should go to work. Others should report as scheduled on Tuesday.

Bell says teachers will continue opposing the proposal.
Update 2: American Power posted this from The Daily Caller's article:
"…it was very uncomfortable. They're not a very nice group of people."