US Senator Sheldon Whitehouse From Rhode Island Provides Erroneous Information To American Public in Global Warming Rant
Just The Facts
Watts Up With That?
5/20/2013
First, I'm sure I speak for everyone at WUWT when I say that our hearts go out to all the families in Oklahoma affected by the weather tragedy there today.
In the video [at WUWT] US Senator Sheldon Whitehouse states that:
"When cyclones tear up Oklahoma and hurricanes swamp Alabama and wildfires scorch Texas, you come to us, the rest of the country, for billions of dollars to recover. And the damage that your polluters and deniers are doing doesn't just hit Oklahoma and Alabama and Texas."

Read more: Daily Caller
If Senator Sheldon Whitehouse did more reading and less ranting, he might know that Continental US Temperature Lower Troposphere (TLT) – 1979 to Present;
is currently below average…
The article continues, with video, with Watts Up With That?
Also at the site, Stunning ignorance on display from Senator Barbara Boxer over Oklahoma tornado outbreak
…[Boxer] also plugged her own bill, cosponsored with Sen. Bernie Sanders that would put a tax on carbon. "Carbon could cost us the planet," she said. "The least we could do is put a little charge on it so people move to clean energy."…

…Tell us, what could any tax, law, edict, or protest have done to stop yesterday's tornado outbreak? And what makes this one somehow different from the F5 Oklahoma city tornado of 1999 that also hit the city of Moore?…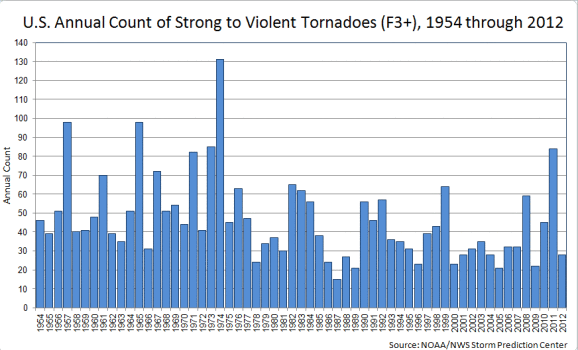 The article continues (with video and graphics at full size) at Watts Up With That?
Related: USA Today, 10th May 2013:  Tornado activity hits 60-year low
The USA in the past 12 months has seen the fewest number of tornadoes since at least 1954, and the death tolls from the dangerous storms have dropped dramatically since 2011.

Just two years after a ferocious series of tornado outbreaks killed hundreds of Americans, the USA so far this year is enjoying one of the calmest years on record for twisters. Through Thursday, tornadoes have killed only three Americans in 2013; by the end of May 2011, 543 Americans had died.

The seven people killed from May 2012 to April 2013 is the fewest in a 12-month period since five people died in September 1899-August 1900, according to Harold Brooks, research meteorologist with the National Severe Storms Laboratory in Norman, Okla…
Articles H/T Climate Depotwhere Marc Morano has dozens of related links.
But Obama's been throwing billions at "green energy" projects!   Economic insanity: Obama spends $11 million to create each 'green' job
Groundhog Day: Obama proposes $2 billion fund for 'clean energy' research
Update: Democrat Senator Sheldon Whitehouse Exploits Oklahoma Tornado
…he actually accused Oklahomans of bringing the tragedy on themselves by refusing to pretend that tornadoes are caused by insufficient federal regulation.

Meanwhile, at least 24 people are dead in Oklahoma. They were not killed by global warming, since there hasn't been any for 16 years now.

There truly is no lower life form than a left-wing politician.
Read the whole thing!
Tolerant, caring liberals think OK deserves this:
Update 2: leftist shitboxes who once upon a time politicized a hurricane rush to politicize a tornado
Here's my response to Rhode Island Democratic Senator Sheldon Whitehouse, who took the occasion of the OK tornadoes to launch a political broadside against the GOP and those who don't buy into the politically-concocted notion that human exhalation…
Senator Sheldon Whitehouse And Lizz Winstead Refuse To Let A Crisis Go To Waste
Update 3: Dem Sen. Sheldon Whitehouse Forced To Apologize For Blaming Killer Oklahoma Tornado On Republicans…
Zip writes, "Still an assh*le."
Yes, he is…