Explosions at the Boston Marathon
thebostonglobe
YouTube
4/15/2013
Watch the aftermath of the explosions that rocked Boylston Street during the Boston Marathon. Video by Steve Silva
_
_
The New York Post has a photo essay.
Michael Yon shared this link to photos from LiveLeak. "Horrible images from Boston blasts. Looks like one of the wars. WARNING." The photos are extremely graphic.
He also shared this:
[Update, 7:57 p.m. ET] Doctors are "pulling ball bearings out of people in the emergency room," a terrorism expert briefed on the investigation told CNN's Deborah Feyerick.

CNN The same source said the blasts resulted in at least 10 lost limbs.
CNN updates on explosions

[Update, 7:43 p.m. ET] An 8-year-old boy was among those killed, a state law enforcement source said, according to CNN's John King.

[Update, 7:38 p.m. ET] At least 132 people – including eight children – have been injured in the bombings, according to Boston-area hospitals. Boston police earlier said that two people were killed.

At least 17 of the injured are in critical condition, and at least 25 are in serious condition, area hospitals said.

http://news.blogs.cnn.com/2013/04/15/explosions-near-finish-of-boston-marathon/
From Britain:  Moment of the Boston Marathon explosion  
And tomorrow's front pages of Britain's major papers: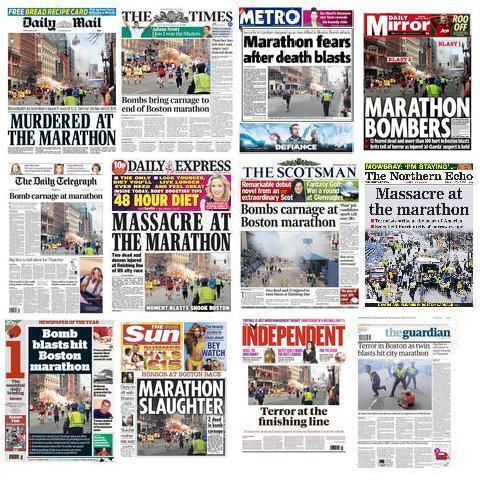 Headlines tonight at Breitbart:
ABC News has a timeline and photos of the day's events.
Boston Marathon Blasts: Doctor Credits Israelis With Helping Set Up Disaster Team 
…"About two years ago in actual fact we asked the Israelis to come across and they helped us set up our disaster team so that we could respond in this kind of manner," said Alastair Conn, Chief of Emergency Services at Massachusetts General Hospital, responding to a question about the preparedness of his staff to handle trauma on this scale…
Google sets up Boston Marathon person finder website.
People shared their thoughts on Twitter:   Michael Moore puts two and two together after Boston Marathon bombing
Good Samaritans online helping track down Boston Marathon runners
Our hearts are heavy with the news out of Boston today. #PrayforBoston

— Mitt Romney (@MittRomney) April 15, 2013
The inevitable hate and stupidity:  HuffPo Blogger: 'First Thought Was All These Anti-Gov Groups'
We don't know anything yet of course, but it is tax day & my first thought was all these anti-gov groups, but who knows
Jordan Extremist Praises Boston Bombing
On Facebook prayers for the wounded, dead, and grieving, and a sign of determination:
I know not all of them will appreciate it, and I never thought I'd say this, but: God bless the people of Boston, Massachusetts.
When Aaron's 2 sons were killed he sat in silence Leviticus x:3 Some things are just too sad to talk about. Boston 4/15/13. Nothing to say. Silence
Stronger.