Update – Overflow crowds in Mooresville
William A. Jacobson
Legal Insurrection
8/12/2012
Let this be a lesson for The Eeyores Among Us
From reader Tim who is at the Romney-Ryan appearance in High Point, North Carolina:
Going into the doors. Holy moly I can't believe the people.

One picture is the front of the line, one picture kinda the back, EXCEPT my camera can't capture two and a half blocks of people.

Many are actually women (the shock)…
…Overflow crowds in Mooresville, as reported by reader Hope:
My 18 year old daughter and I attempted to go to the Romney/Ryan rally this morning in Mooresville , NC. This is a video…of the crowd outside around 9 a.m. The crowd behind me was as big. We did not get in as the crowd was too large. The fire marshal turned the crowds away. This was as close as we got.

We saw about 12 protestors in 3 separate groups of 4 each. They were not convincing anyone that "Offshore Mitt" posed any threat to the country.

As one man said to me…we are the people that work for a living and the people that are protesting are the people that vote for a living. Be encouraged. There are many, many good people with us…
To read the complete article and see more photos from Tim and Hope go to Legal Insurrection.
Related:   Over 10K greet Romney and Ryan in High Point, NC
With expectations high, a Sunday afternoon campaign rally in High Point, N.C. appeared to deliver for the newly formed Republican presidential ticket.

Campaign officials for Republican presidential nominee Mitt Romney tell The Daily Caller that well over 10,000 people attended a campaign rally at High Point's Absolute Style Furniture showroom Sunday. The campaign estimates that 1,200 people were inside the venue while another 10,000 were outside…
Update: Huge Romney-Ryan rally in Waukesha, WI (photos)
Anne is at the Romney-Ryan rally in Waukesha.  She says the crowd is so large they had to move the rally from indoors to outdoors to accomodate all the people.

We're still trying to confirm the crowd size estimate.  (Campaign says10,000, which is similar to what Anne was told.)…
Update 2: Zilla of the Resistance has a great collection of links in response to yesterday's announcement. Like us, she cannot believe this ticket won't attract women voters.
Tonight on the Facebook page Breitbart–One Voice Silenced, Millions Awakened, this photo from Waukesha: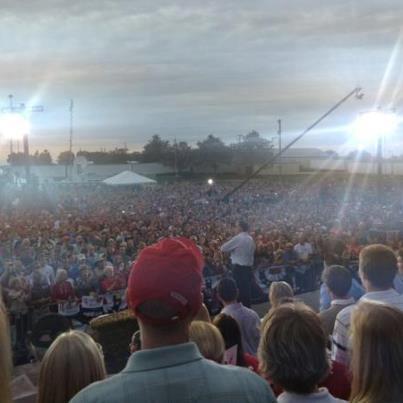 Update 3: Another Overflow Crowd At Romney Ryan Rally In Mooresville, NC
…It appears it is a repeat of the scene I saw yesterday afternoon in Manassas, VA. There was an overflow crowd and they weren't able to get in…
…Word from our correspondents there is that Romney and Ryan will also speak to the crowd outside who couldn't get in.
Romney, Ryan Running on American Exceptionalism
Update 4: Biden: Thanks To Paul Ryan, "Even More Wealthy, Right-Wing Ideologues Are Lining Up To Support The Ticket"…
Yeah. Or something. We can't wait for the debate. Pass the popcorn, please.