By KATHY BARKS HOFFMAN
AP News
November 18, 2009
GRAND RAPIDS, Mich. (AP) – College students ditched class, employees skipped work and some huddled in the cold overnight just to make sure they get an orange wristband Wednesday that would let them meet Sarah Palin.
Thousands gathered outside a Barnes & Noble and chanted "Palin! Palin! Palin!" for the kickoff of the former Republican vice presidential candidate's "Going Rogue" book tour, which has taken on the feel of a political pep rally.
"She's a person of faith, she has a family, she has gone through a lot of the trials and tribulations we have. I'd vote for her in a heartbeat," said Lana Smith, a dispatcher at a bus company who took the day off work and had been waiting in line since 5:30 a.m.
"Someday I hope her name is up in lights and I'll have had the privilege of meeting her," Smith said.
County music played as Palin's tour bus, painted to resemble the cover of her book, pulled up to the Woodland Mall in Grand Rapids.
"I just can't tell you how good it is to be back in Michigan," the former Alaska governor told the crowd, which chanted "Palin! Palin!"
"Alaska and Michigan have so much in common, with the huntin' and the fishin' and the hockey moms, and just the hardworking, patriotic Americans who are here," Palin said.
Wearing a "Palin Power" bumper sticker across her red sweat shirt, 72-year-old Rachel Baragar praised Palin's honesty and down-to-earth manner.
"She could be your next door neighbor," said Baragar, of Caledonia.
The memoir was released Tuesday but has topped best-seller lists for weeks. At the Barnes & Noble, about 1,000 orange wristbands were handed out, allowing wearers to get two copies autographed by Palin at the three-hour signing event.
College students Megan Patzky of Racine, Wis., and Sarah Cranmer of Chicago waited in line overnight and skipped their Wednesday classes at nearby Calvin College to get an autograph. Patzky planned to give the signed book to her father for Christmas.
After standing in the cold all night, Patzky and Cranmer were happy to get into the mall around 6:15 a.m. "We were hoping that someone would start selling coffee, but nobody did," Patzky joked.
"Going Rogue" follows Palin from childhood to her departure last summer as Alaska governor. The title refers to her independent streak as a candidate, stemming from complaints within the campaign of GOP presidential nominee John McCain that she had gone "rogue" by disagreeing with the campaign's decision to pull out of Michigan last October.
McCain halted his campaign in the state after internal polls showed Obama approaching a double-digit lead. Palin publicly disagreed with the move and said she'd "sure love to get to run to Michigan" to make sure residents know the Republicans had not given up in the state.
Before the pullout, Palin had campaigned with McCain in Grand Rapids. Her three-week book tour is expected to largely mirror the 2008 race with stops in cities such as Noblesville, Ind.; Washington, Pa., and Rochester, N.Y.
Many of those waiting at the Michigan bookstore said they would vote for Palin if she decides to run for president in 2012.
"I believe she's a good, strong person to do the things we need to do in this country," said David Zak, 70, who drove about two hours to see Palin. "I like her Christian philosophy. I like that she's pro-life. I believe she can do what needs to be done to get ahead."
_______
And, from the blog GovernorPalin4President:
10,000+ at Woodland Mall in Michigan to See Sarah Palin
Wednesday, November 18, 2009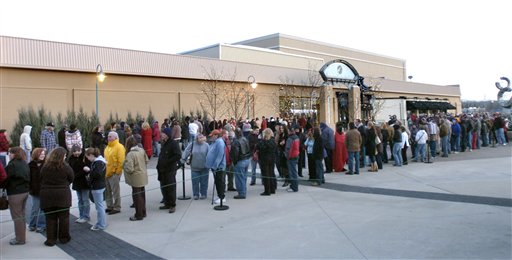 Many Slept over night and others arrived at 6am. I Posted some of the comments and posting, from Teamsarah.org, of people that were at the book signing. As of 9am 2,000 fans already arrived. The photo above is from early this morning.
The rest of this personal account a photo essay, and a video, is here.