Doug Powers
MichelleMalkin.com
1/16/2011
It's safe to assume that Michael Reagan has a slight disagreement with Ron Reagan Jr's "dad had Alzheimers while he was president" allegation in his book:
Reagan Jr's book suggests — even though the myth has been debunked for years — that President Reagan had Alzheimer's during his presidency, citing in part some verbal fumbling during a 1984 debate with Walter Mondale. Sure, maybe if Reagan hadn't slipped a little during that debate he'd have won all 50 states.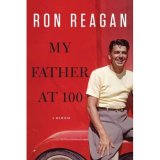 Reagan Jr's claim that his father was stricken with Alzheimers by 1986 would mean that the president was in the throes of the disease when he delivered the famous Brandenburg Speech in 1987…
Go to MichelleMalkin.com to watch the Brandenburg video and to read the rest of the article.