Don Surber
11/9/2014
Tom Piper is a British theater designer who has captured the heart and soul of his nation this fall with a simple, eloquent and beautiful display of patriotism that combines pacifism with nationalism. The exhibit arrived at just the right moment for a nation ravaged by self-doubts on many fronts.
Collaborating with ceramic artist Paul Cummins, Tom Piper has filled the moat of the Tower of London with red ceramic poppies — 888,246, in all — one to commemorate each of the young boys who died fighting for the Commonwealth in World War I, which began 100 years ago this summer.
He called the exhibition "Blood Swept Lands and Seas of Red."…
…Along the Thames this weekend and for the rest of the month, the British people are gathering their strength to take up the battle again. Britain is choosing to be Great again. If history is correct, a Winston Churchill or Charles Martel will emerge. For Remembrance Day is not about the dead; like any funeral, it exists for the living.
Read the entire tribute at Don Surber's blog.
Related:  A History of the First World War in 100 moments: The day the lights went out
For most Britons, news that the United Kingdom was at war came like a bolt of summer lightning. There had been no need for the Prime Minister to return from Europe waving a piece of paper and promising "peace for our time" – because everyone expected the long peace between Europe's major powers to continue indefinitely. It had been 43 years since the Franco-Prussian War; 99 years since the British Army had last fought a battle on European soil. The last major conflict involving British soldiers had been 14 years earlier and more than 5,000 miles away, in South Africa…

…Some 85,000 members of the British Expeditionary Force were dead by Christmas, the first victims of an industrialised war that would claim nearly a million British lives over the next four years…
Read the whole thing.

Update: Poppies Everywhere
…This year the Tower of London put on an extraordinary display: 888,246 ceramic poppies, one for each Commonwealth soldier killed in World War I, filled the moat surrounding the Tower. Each evening during the weeks leading up to Remembrance Sunday, someone would read a list of some of the World War I dead. This is what the Tower looks like…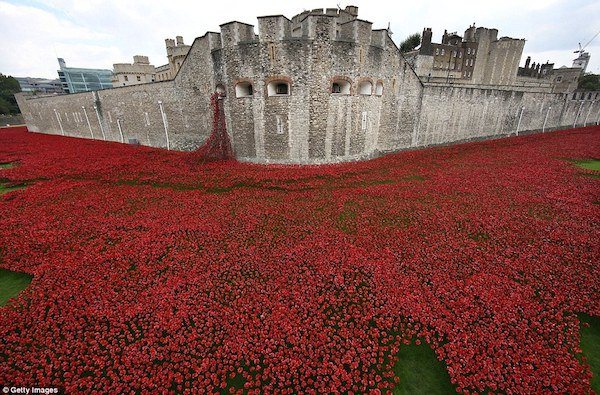 Here is aerial footage of the display.