23 May 2013
The Telegraph, London.
The woman in the photograph got off a bus passing the scene to help the victim. Mum talked down Woolwich terrorists who told her: 'We want to start a war in London tonight' 
A cub scout leader confronted terrorists just seconds after they had beheaded a soldier asking them to hand over their weapons and warning them: "It is only you versus many people, you are going to lose."

…Mrs Loyau-Kennett was not the only woman to show extraordinary courage. Others shielded the soldier's body as the killers stood over them.

MPs praised the "extraordinary bravery" of the women and raised concerns about why it took armed police 20 minutes to arrive at the scene while people's lives were at risk…
Several videos and photographs at LiveLeak:  Beheading in Woolwich, UK – British Soldier Dead
At PowerLine, I Think They're Trying to Tell Us Something
…Driving home from the airport tonight, I listened to a radio account of the attack which said that radical Islam is suspected as a possible motive. Well, of course, reserve judgment: don't take their word for it!

What has been going on in Sweden [link added/CAJ] is less spectacular but cut from the same cloth. "Youths" have been rioting in Stockholm and its suburbs for the last two nights. Their excuse is the fact that Stockholm police shot a Muslim who was attacking them with a knife. This is what Stockholm has looked like for the last couple of days…
Bloodied London Attacker Speaks To Camera After Beheading: 'You People Will Never Be Safe'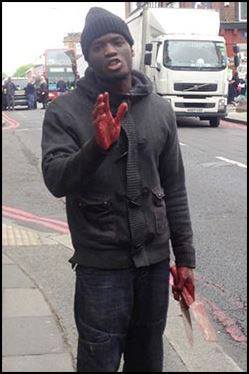 Islamic Savages Hack Soldier to Death in London Street in Broad Daylight 
Gates of Vienna:
Michelle Malkin Slams "Political Correctness" as the "Handmaiden of Islamic Terrorism" in Wake of British Soldier's Killing by Jihadists in London 
Here is video of the incomparable Michelle Malkin on Hannity tonight where she took on liberal Leslie Marshall on why it is vital to identify the threat we face from Islamic Jihadist Terrorism. They were discussing the Islamic Jihadist attack in London today by two men against a British soldier, hacking him to death
Blazing Cat Fur has extensive coverage:  Muslim Terror Attack Confirmed – Machete Attack Kills Brit Soldier In Woolwich – Report describes "beheading"
…"When they dumped the body in the road, these two black guys had the opportunity to hurt other people if they wanted to because there were brave women with the dead guy on the floor, they were shielding and covering him. The attackers with the knives were standing over these women.

"The guy with the gun, the tall guy with the beanie cap on, even a bus had pulled up – he was going over to the bus and asking people to take his photo."…
The many comments left on the site are also worth reading, including:
Once again, I must sadly summon up Shakespeare, from "Richard the Second".

This land of such dear souls, this dear, dear land,
Dear for her reputation through the world,
Is now leased out – I die pronouncing it! –
Like to a tenement or a pelting farm.
England, bound in by the triumphant sea,
Whose rocky shore beats back the envious siege
Of watery Neptune, is now bound in with shame,
With inky blots and rotten parchment bonds.
That England, which was wont to conquer others,
Hath made a shameful conquest of itself.