20 February 2012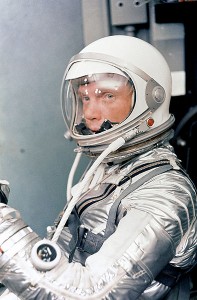 On 20 February 1962 Col. John Glenn orbited the Earth in Friendship 7. From Wikipedia:
…In April 1959, despite the fact that Glenn had not earned the required college degree, he was assigned to the National Aeronautics and Space Administration (NASA) as one of the original group of seven astronauts chosen for Project Mercury. During this time, he remained an officer in the United States Marine Corps.

He became the fifth person in space, the third American in space and the first American to orbit the Earth, aboard Friendship 7 on February 20, 1962, on the Mercury-Atlas 6 mission, circling the globe three times during a flight lasting 4 hours, 55 minutes, and 23 seconds. Perth, Western Australia became known worldwide as the "City of Light" when city residents lit their house lights and streetlights as Glenn passed overhead. The city repeated the act when Glenn rode the Space Shuttle in 1998. During the mission there was concern over a ground indication that his heat shield had come loose, which could allow it to fail during re-entry through the atmosphere, which would result in his capsule burning up. Flight controllers had Glenn modify his re-entry procedure by keeping his retrorocket pack on over the shield in an attempt to keep it in place. He made his splashdown safely, and afterwards it was determined that the indicator was faulty.

As the first American in orbit, Glenn was celebrated as a national hero, and received a ticker-tape parade reminiscent of that given for Charles Lindbergh. His fame and political attributes were noted by the Kennedys, and he became a personal friend of the Kennedy family.

On February 23, 1962, President Kennedy escorted him in a parade to Hanger S at Canaveral Air Force station where he awarded Glenn with the NASA service medal…
It's a great bio, a history lesson worth reading.
"Many years ago the great British explorer George Mallory, who was to die on Mount Everest, was asked why did he want to climb it. He said, 'Because it is there.' Well, space is there, and we're going to climb it, and the moon and the planets are there, and new hopes for knowledge and peace are there. And, therefore, as we set sail we ask God's blessing on the most hazardous and dangerous and greatest adventure on which man has ever embarked."
-John F. Kennedy,
Rice University, Sept. 12, 1962
Related: John Fairfax, Who Rowed Across Oceans, Dies at 74
Update:  'God Speed, John Glenn'