New tone? Mich. Democrat threatens violence over right-to-work vote; 'There will be blood'; Update: Mich. Dems proudly tweet violence threat; Update: Video added; Thugs follow-through; AFP tent stormed, Steven Crowder punched; Update: More thug violence caught on video
Twitchy
12/11/2012
Unreal. As Twitchy reported, union goons are protesting the right-to-work vote in Michigan today. Riot police are on scene, but maybe they need to move to the House floor. Because Democrat Douglas Geiss is now threatening violence, saying "there will be blood."…
_
_
…Michigan Democrats so proud of the threat of violence that they tweeted it.


…Twitter users rightfully react with outrage and point out the ever-present double standard.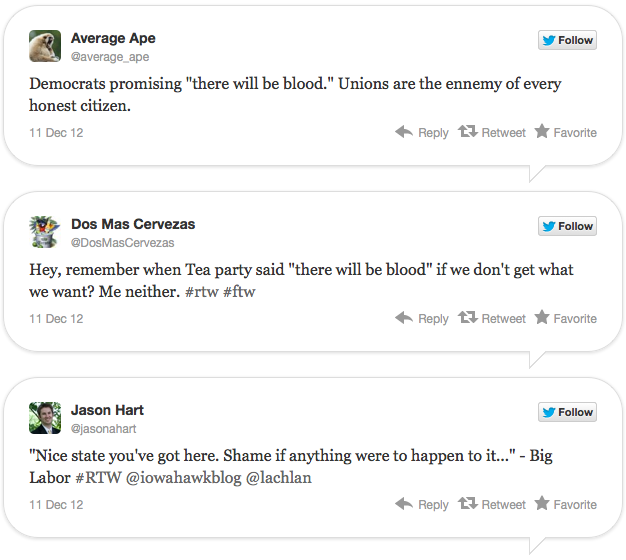 The article continues with more tweets, photographs, and video at Twitchy. To see these images at full size, go to the link.
Also at the site, Pics, reports: Union goons protest right-to-work vote in Lansing, Mich.; Riot police on scene; Update: 'There will be blood'; : Mich. Dems proudly tweet quote; Update: Michael Moore thinks it's awesome teachers failed to do their jobs; Update: Mob rule reigns; Update: Gov. Snyder officially signs bills into law
This photo is from the link above. It shows the Americans for Prosperity tent surrounded by union protesters before they began to tear it down and slash it with knives:
Update: Reward: $2,200 for information leading to arrest of Steven Crowder assaulter; Update: More than $5,000 pledged
…Conservative radio talk show host Dana Loesch announced on her show that an anonymous donor is offering $1,000 for information leading to the arrest of the union thug who assaulted Steven Crowder in Michigan on Tuesday…
Michigan: Union Goons Tear Down, Slash Tent Filled With People (Updated)
Without any concern for the people inside, union goons tore down an AFP tent and then slashed it to pieces during a protest in Lansing, Michigan. Police were nearby, but feared the mob and did nothing. Even as people were trapped under it, these union animals began jumping on and slashing the tent.    The tent was owned by Americans For Prosperity Michigan Chapter…
Update 2: UNION THUG Who Beat Steven Crowder ID'ed – His Name Is Tony Cummings
White House Refuses To Condemn Union Violence
Unconscionable. White House spokesman Jay Carney declined to condemn the increasing violence and threats by union members in Michigan, merely telling reporters Tuesday that "the president believes in debate that's civil." …
Jimmy Hoffa: We're Going To Have a "Civil War" in Michigan
In that case I would advise conservatives — don't retreat, reload. Jimmy Hoffa, president of the International Brotherhood of Teamsters, said Tuesday he expects Michigan unions and lawmakers to break out into "civil war" after the state legislature passed right-to-work…
Unions Reap Their Own Bitter Harvest in Michigan
Answer: Things get violent when the folks Obama Supports get involved
Question: What is similar between the protests in Egypt and the protests in Detroit?
CIVILIZATION 1, VIOLENT UNION THUGS 0: Mich. governor signs anti-union bills after protests. …
Look for the Union Label; If You Can Read, That Is
Coming on the heels of today's leftist violence in Michigan with protests attended by many teachers, it's worth noting how pathetic a job the unions have been doing educating the helpless children of that state, and in particular the wasteland…
Following Obama's Lead, Union Mobs Turn Violent in Michigan
He encouraged them with his demagoguery Monday and naturally the violence follows. This is what you voted for, America. Enjoy.
Update 3: You're 'going to die painfully': Gov. Snyder faces threats, death wishes over Mich. right-to-work bills
Today, union thugs brought their crusade against workplace freedom to an ugly, violent head in Lansing, Michigan. A mob of knife-wielding labor goons slashed an Americans for Prosperity tent to pieces, repeatedly punched comedian Steven Crowder in the face and threatened to kill him with a gun. But the bloodlust didn't end there…
Sick: Violence apologists blame Steven Crowder for assault by union thug
…@Stranahan Gee, I wonder who will be cast as the violent ones. @scrowder best get a lawyer — he assaulted some thug's fist w/ his face…
Update 4: To measure the goodness of union successes in Michigan:
Only 7% of Detroit Public-School 8th Graders Proficient in Reading 
Obama: Look at Michigan to See How Unions Built America's Middle Class
Right to Work becomes law in Michigan, now the 24th Right to Work state in U.S.
Koch Brothers Derangement Syndrome: Chris Matthews BULLIES Michigan AFP Director over who pays his salary