Jim Hoft
The Gateway Pundit
1/10/2015
…Several leaders of Western Europe confirmed they will participate in the march on Sunday. One million people are expected to attend the rally on Sunday.
Israeli Prime Minister Benjamin Netanyahu will fly to Paris to join world leaders at the Paris Freedom March.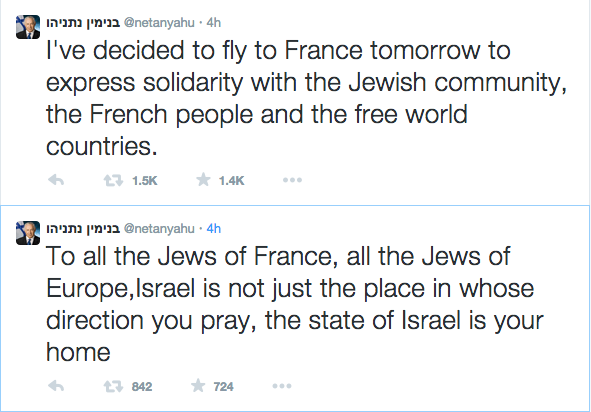 Read the entire article at The Gateway Pundit.

Related: Israeli PM Netanyahu has a message for European Jews (video)


Israel prepares for wave of Jewish immigration from France (video)
…Netanyahu decided to travel to Paris on Sunday, where – in addition to attending the rally – he will meet with the Jewish leadership and discuss the growing anti-Semitism they have been facing and their fears following this week's terrorist attacks.

Foreign Minister Avigdor Lieberman and Economy Minister Naftali Bennett, chairmen of the right-wing Israel Beytenu and Habayit Hayehudi parties, respectively, will also represent Israel at the event.

Netanyahu said he was setting up a special cabinet committee to increase immigration from France and to oversee preparations.

Defense Minister Moshe Ya'alon also said Saturday that Jews in Europe are under attack and that the safest place for them is in Israel…

Paris Grand Synagogue Shuts on Shabbat for First Time Since World War II

Heroic Muslim man saved Jewish hostages during Paris siege by hiding them in freezer
A heroic young Muslim hid Jewish hostages in a freezer as they sought refuge from a killer during a siege at a Kosher supermarket.

Lassana Bathily, originally from Mali in west Africa, is said to have shepherded terrified customers to safety in a chiller as the Islamist gunman took hold of the Hyper Cacher supermarket in Porte de Vincennes, Paris, yesterday.

Coulibaly executed four of the 19 hostages before police stormed the building and ended the terror, killing the gunman as he attempted to flee…

Mark Steyn: Munich
At the end of a week of bloodbaths and hostage sieges, I went looking for something appropriate for our Saturday movie date, and settled on a nine-year-old Spielberg movie about the massacre of Israeli athletes at the 1972 Olympics. The death toll in Munich was, in fact, one less than at Charlie Hebdo. I don't know what significance to attach to that statistic, but I have the vague feeling that Europe, for want of any alternative policy, has decided to live with what British government officials used to call, apropos Northern Ireland, an "acceptable level of violence". Certainly, murdered Jews seem far more routine – and thus "acceptable" – on the Continent of 2015 than they were in 1972. There were four more on Friday – still lying in their blood on the floor of a kosher grocery store, as around the world TV and radio commentators preferred to focus on the as yet non-existent victims of a hypothetical anti-Muslim "backlash". That's the other reason Spielberg's film seems timely. It takes a story propelled by righteous anger, and marinates it in moral equivalence – the default mode of our age…