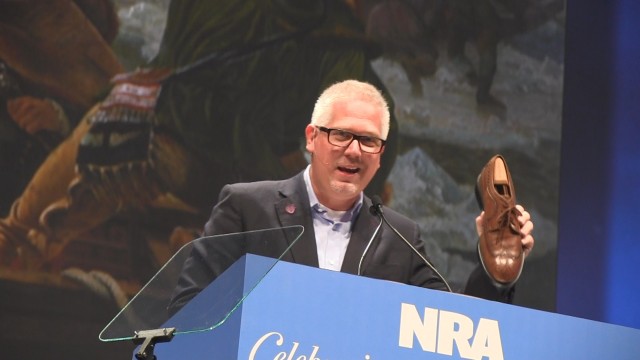 Glenn Beck
4/15/2012
A chalkboard, history, unpasturized butter, and a shoe – there is only one man who could take all of these things, put them together in a speech, and get a standing ovation. That man is Glenn Beck.
Saturday night Glenn gave the keynote at the National Rifle Associations annual convention. He was introduced to the stage by the NRA's Wayne LaPierre, who told the crowd that "he shoots straight and gun owners couldn't have a better fan."
Glenn kicked off the speech by clearing the air about who he is endorsing for President of the United States – his shoe.
"Anyone but Barack Obama, including my shoe," Glenn said. "He'd do better than Barack Obama, I can make the case."
Next, Glenn discussed how the tragic death of Trayvon Martin is being used to target our second Amendment rights. "This government will never let a crisis go to waste," Glenn said, describing how this particular crisis is being used to vilify gun owners.
Glenn also touched on Al Sharpton for his public role the last few weeks in the Trayvon Martin case. George Zimmerman, the shooter, was charged Wednesday with second-degree murder in the Florida teen's death.
"I saw him this week actually patting himself on the back," Beck said of Sharpton. " 'I was the first to say he's guilty and should go to jail.' When did that become something we're proud of? When did that become something we wear as a badge of honor, to say 'I was the first to try a man in the media? I was the first to say oh, that pesky Constitution. The right to a jury trial. I was the first to say guilty before innocent.' That's crazy. The world is absolutely upside-down."
Glenn compared what Sharpton and others on the left are doing now to what they did when the administration tried to hold the trial of some of the worst terrorist in New York City. "It was vital to show the world how great the our justice system is. …where are they now defending that great American justice system? Nowhere – let the world see the American justice system. It works," Glenn told the crowd…
…Glenn told the crowd about what George Washington did before fighting the Revolutionary War – he called for a National Day of Prayer and Fasting on May 17th. Glenn suggested that we do the same this May 17th.
"We beg God to protect this nation and His cause. Go home and tell your preachers and your rabbis," Glenn told the cheering crowd while continuing to tell the story of the amazing Crossing of the Delaware…
The complete article is at GlennBeck.com where readers may watch video of his entire speech to the NRA.
Update: America Elected an Ignoramus. Obama's ignorance and failures of judgment that Americans will have to live with for a very long time
I do not write unpleasant things about Barack Hussein Obama because he is a Democrat, a far-left liberal ideologue, a confirmed liar, or the sock-puppet of whatever cabal that chose him long ago to be the President. I write unpleasant things because he is all of these things, but also because he is the most stupid man to have ever held the office of President.

As far back as January 2, 2010, I wrote that Obama had "an imaginary life" because there was no proof that anything he claimed in his two memoirs, written by the age of 45, was true. His resume listed "community organizer", an amorphous term that could mean anything, as his primary occupation. By October 2010 the Washington Times published a commentary of mine that said "millions of Americans are beginning to ask: Is President Obama just a moron?"…