Nonie Darwish
FrontPage Magazine
7/20/2012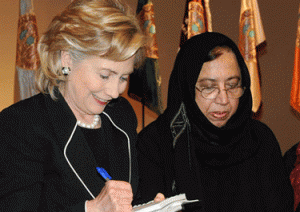 Huma Abedin, Secretary Hillary Clinton's chief of staff, could be the nicest woman with the greatest character, but that is not the issue nor should it be a reason to prevent [any] inquiry into her family background and connection to the Muslim Brotherhood. Instead of attacking Representative Bachmann for raising important questions regarding Muslim Brotherhood penetration of the US government, the response from the media and Senator McCain should have been a statement to the effect that Abedin has already been vetted and has a sound security clearance. But instead, the response was: "How dare you, Michele Bachmann!"
Now let us examine Huma's mother's history and activities. Dr. Saleha Mahmood Abedin has been identified in Saudi Arabia as one of the founding members of the Muslim Sisterhood, a Muslim Brotherhood women's group. This is the same group that half of Egypt was too scared to vote for and that was criminalized for many decades in Egypt for its subversiveness and terror activities.  Dr. Abedin is no ordinary Muslim woman, but an activist who supports Sharia law. She is also a long-time chairperson of the "International Islamic Committee for Woman and Child" (IICWC). Now let us examine what that group is doing in Egypt today and why many Egyptians are afraid of its activities and are strongly denouncing it.
The last elections in Egypt have proved that half of Egypt is afraid of the Muslim Brotherhood and does not want to live under Sharia, but that is not the same concern of Abedin's organization (IICWC), which is advocating Sharia law.  The IICW contributed greatly to fear of its agenda after a recent publication in Arabic on its website. The following topics were discussed, among others, suggesting the annulment of Egyptian moderate laws, which would be replaced by Sharia laws. [Here] are some of the positions that appeared in the IICWC publication…
…Rep. Bachmann and her colleagues should be applauded for pushing the alarm button, not just regarding Abedin, but regarding many others in our government, to alert us all to a possible security threat from the Muslim Brotherhood and the "civilization jihad" they aspire for in America.
The complete article is at FrontPage Magazine.
Related: Hillary tied to new Muslim Brotherhood president
Saleha Mahmood Abedin, the mother of Hillary Clinton's chief of staff, reportedly served in the women's division of the Muslim Brotherhood alongside the wife of Egypt's new president, the Brotherhood's Mohammed Mursi.

WND previously exposed Abedin represented a Muslim charity known to have spawned terror groups, including one declared by the U.S. government to be an official al-Qaida front.

WND also reported Clinton spoke at Abedin's Saudi women's college, where she was introduced by Abedin alongside the Islamic activist's daughter, Huma, who serves as Clinton's chief of staff. At the speech, Clinton praised Saleha's "pioneering work."

Saleha Abedin is also the mother-in-law of disgraced former Rep. Anthony Weiner, D-N.Y.

Now, author Walid Shoebat is reporting that while she acted as one of 63 leaders of the Muslim Sisterhood, the de facto female version of the Muslim Brotherhood, Saleha Abedin served alongside Najla Ali Mahmoud, the wife of Mursi. Both were members of the Sisterhood's Guidance Bureau, found Shoebat…
Read the whole thing!
H/T Winds of Jihad,  "Charges made in a 16-page letter by Rep. Michele Bachmann, R-Minn., against longtime Clinton aide Huma Abedin miss what may be one of the most troubling radical connections – Abedin's family is directly tied to the Muslim World League."
Also at Winds of Jihad, Keith Ellison is a Muslim Brotherhood operative (just like Huma Abedin)
This is bigger than anything. Forget about the Colorado shooter and the gun control shriekers, that's a distraction. Pay attention to the MB infiltration in our government, because this is going to affect us all! This is no "baseless witch-hunt" – I'm glad to see Bachmann is doubling down, and that she  added Ellison's name to the list of U.S. officials whom she believes should be investigated for ties to the Muslim Brotherhood…
At the link is Mark Levin's interview with Robert Spencer , and video of Ellison comparing Bachmann to Sen. Joseph McCarthy.
According to Ellison's impeccable logic, since he hasn't met Egyptian Muslim Brotherhood leader and new Egyptian President Mohammed Morsi, therefore he has no knowledge of the Muslim Brotherhood.

But a mountain of evidence of his contacts with and support of Muslim Brotherhood front groups – identified as such by the U.S. Government – shows that the Muslim Brotherhood definitely knows who he is.

Rewind to 2008 when Keith Ellison went on a 16-day hajj trip to Saudi Arabia paid for by the Muslim American Society (MAS) to the tune of $13,500.  Scott Johnson at Powerline noted at the time that Ellison had conflicting stories about who paid for the trip…
Read the whole thing!
See also our article, Egyptian Reformists Alarmed By Hillary and Obama
CAJ note: from Congresswoman Bachmann's website:
…Bachmann is a member of the Permanent Select Committee on Intelligence and the Financial Services Committee. She has taken the opportunity of serving on the Intelligence Committee to regularly advocate for peace through strength to ensure America's national security. As she vowed in her Oath of Office, Bachmann continues to "support and defend the Constitution of the United States against all enemies, foreign and domestic." Bachmann is devoted to doing her part to ensure America's safety…
Meanwhile, Report: Egypt's New Islamist President And Hamas Leader Discussed Declaring Gaza A "Liberated Territory"….
Hamas is considering declaring the Gaza Strip "a liberated part of Palestine" and cutting all commercial ties with Israel.

According to the London-based Arab daily Al-Hayat Sunday, the idea was discussed in a meeting between Hamas leader Khaled Mashaal and Egyptian President Mohammed Morsi last Thursday, and will be discussed further in a meeting between Morsi and Hamas's prime minister in Gaza, Ismail Haniyeh, this Thursday, July 26…
Update: Wheat at record is the worst thing that could happen to Egypt
Update 2: Egyptian President Pardons 572 Convicts Including Members of Terror Groups Islamic Jihad And Jama'a Al-Islamiya… Which just reinforces the wisdom of the entire Middle East policy of our President and Secretary of State.
Update 3: Marco Rubio throws Bachmann and other GOP under the bus over letter about Huma Abedin -UPDATE: Audio Added