By Rowan Scarborough
FoxNews.com
Tuesday, November 24, 2009
Navy SEALs have secretly captured one of the most wanted terrorists in Iraq — the alleged mastermind of the murder and mutilation of four Blackwater USA security guards in Fallujah in 2004. And three of the SEALs who captured him are now facing criminal charges, sources told FoxNews.com.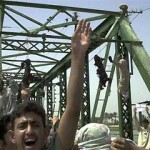 [March 31, 2004: Iraqis chant anti-American slogans as the charred and mutilated bodies of U.S. contractors hang from a bridge over the Euphrates River in Fallujah, Iraq.]
The three, all members of the Navy's elite commando unit, have refused non-judicial punishment — called an admiral's mast — and have requested a trial by court-martial.
Ahmed Hashim Abed, whom the military code-named "Objective Amber," told investigators he was punched by his captors — and he had the bloody lip to prove it.
Now, instead of being lauded for bringing to justice a high-value target, three of the SEAL commandos, all enlisted, face assault charges and have retained lawyers.
Matthew McCabe, a Special Operations Petty Officer Second Class (SO-2), is facing three charges: dereliction of performance of duty for willfully failing to safeguard a detainee, making a false official statement, and assault.
Petty Officer Jonathan Keefe, SO-2, is facing charges of dereliction of performance of duty and making a false official statement.
Petty Officer Julio Huertas, SO-1, faces those same charges and an additional charge of impediment of an investigation.
The three SEALs will be arraigned separately on Dec. 7. Another three SEALs — two officers and an enlisted sailor — have been identified by investigators as witnesses but have not been charged…
…The Fallujah atrocity came to symbolize the brutality of the enemy in Iraq and the degree to which a homegrown insurgency was extending its grip over Iraq.
The four Blackwater agents were transporting supplies for a catering company when they were ambushed and killed by gunfire and grenades. Insurgents burned the bodies and dragged them through the city. They hanged two of the bodies on a bridge over the Euphrates River for the world press to photograph…
The article and full-sized photo can be seen at FoxNews.com And more at Atlas Shrugs.