Jammie Wearing Fools
4/4/2012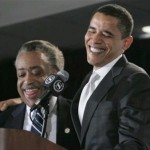 Rubbing it in your face he much.
President Barack Obama reflected on the power of the Resurrection during an Easter breakfast with some of his administration's faith advisers and Christian leaders from across denominations.

"We are here today to celebrate that glorious overcoming, the sacrifice of a risen Savior who died so that we might live," he told the group gathered at the White House. "And I hope that our time together this morning will strengthen us individually, as believers, and as a nation."

He told the 150-person crowd—including the Rev. Al Sharpton, National Association of Evangelicals head Leith Anderson and popular speaker Louie Giglio—that Jesus' sacrifice and ability to overcome doubt puts Christian's own struggles into perspective.

His remarks at the beginning of the breakfast were interrupted with laughter and amens from the Christian leaders.
Yeah, they're laughing at you.