John Hinderaker
Power Line
6/1/2010
Michael Ramirez, as usual, gets to the heart of the "freedom flotilla" incident. It's worth noting that the drawing on the right side of the panel could just about be a screen grab from a video of the pro-Palestinian thugs beating Israeli troops as they rapelled, one by one, on to the deck of the Mavi Marmara.
UPDATE: For those who didn't understand what I was talking about, here is a screen grab–one of many that could have been chosen–from a video of the violence on board the Mavi Marmara that we posted last night. Ramirez obviously based his drawing on the facts of the incident: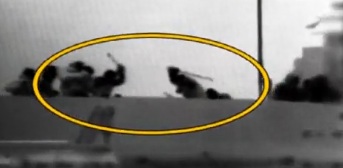 Most political cartoonists just indulge their prejudices. Michael Ramirez actually knows what he is talking, or drawing, about.
* * * * * * *
CAJ note: Read also at HotAir.com, Israeli probe: Majority of people on flotilla have jihadist links, where Allahpundit has posted numerous links and four must-see videos:
…I'm giving you four(!) clips here, the first of the weapons cache recovered from the ship and the other three of various spokesmen and experts explaining what happened. The consensus I'm seeing from Israeli analysts is that, yes, the troops had to do what they had to do to defend themselves but it's all the IDF's fault anyway for conceiving such a poorly planned, badly executed operation. There's truth in that — the more inept they look, the more dangerous things get and the more easily the world is distracted from pressing business — but it smacks of Israelis absolving the other side of their moral agency in this, from the armed and plotting passengers to Turkey's unbelievable cynicism in cooperating in this charade. Read this hugely depressing piece by Ronen Bergman just posted at the Journal for a gloss on that. Exit quotation:
"It makes no difference what we do, or how careful we are, or how we tackle the matter of the flotilla," I was told by a very senior military source two days before the operation. "Whatever we do, they'll all be against us, they'll condemn us at the U.N., and we'll be scolded. We might as well at least preserve our national dignity and maintain the blockade of Gaza." In other words, the war over world opinion is over—and Israel has lost."
UPDATE: From Jim Hoft of GatewayPundit, Breaking: 40 of the 'Peace Activists' on Gaza Flotilla are Al-Qaeda
Is anyone else shocked–shocked–by that headline?